Customer loyalty and retention are two of the most important factors for any business growth. Not only it's easier to sell to loyal customers, but they also tend to make more purchases with the companies they prefer and usually spend more. Often, these are the people who become your brand advocates, spreading the good word about your products.
Sure, customer loyalty is not something you just build overnight – yet all your time and efforts are worth it to earn their trust.
One of the ways to do that is to create an SMS loyalty program. Due to this channel's highly personal and direct nature, text messages can positively affect your customer engagement, help you connect in a more meaningful way, and encourage clients to come back for more.
In this post, you'll learn about the benefits of text-based loyalty programs and go through the steps of creating one so that you could start using loyalty messages to reward your customers.
What is an SMS loyalty program and why do you need one?
An SMS loyalty program is a marketing strategy that uses text messages to reward customers for their continuous interactions with a specific brand.
The main reason for building a loyalty program is to keep customers engaged with your brand and boost customer retention. It means that your loyalty program members become less likely to choose your competitor over you the next time they make their purchase decisions.
Moreover, a loyalty program itself plays an important role in consumer-brand relationships.
71% of customers admit that loyalty programs are a meaningful part of the whole experience, according to the Bond Brand Loyalty report. Another 77% of customers say that being a part of a loyalty program makes them more likely to continue doing business with a brand. As for positive word-of-mouth, most consumers (70%) don't mind recommending companies with good loyalty programs to their friends and family.
Sounds pretty good so far, doesn't it?
The benefits of using SMS as part of your loyalty program
There are many types of loyalty programs and many different ways to create and run them. So why use SMS to reward your customers?
Stronger bond with your customers. Texting is an everyday activity that nearly everyone is familiar with. Usually used for communicating with friends and family, it's perceived as a personal and intimate channel. Therefore, SMS's simple and direct nature can help you establish closer relationships with each of your customers and appear more human.
Global reach. As of 2021, there are 7.10 billion mobile phone users globally, meaning that nearly 90% of the whole human population own either a smartphone or a classic cell phone. No matter the type, all of those phones can be used to send and receive text messages.
Mobile-focused approach. In general, the use of smartphones for digital activities (e.g., online shopping) is growing, which makes mobile an essential channel to focus on. Not only in terms of promoting your products or services but also for boosting customer experience with your brand. It's just smart to reach customers where they are.
High open rates. SMS open rates are probably the highest of all marketing channels, reaching up to 98%. So when sending a text message, you are basically guaranteed that the recipient will read it.
Target the right customers. Those who join your loyalty program and opt-in for your SMS marketing messages are the ones who genuinely want to hear from you. The combination of the latter and the responsive nature of SMS as a channel can be a powerful tool for achieving your goals.
SMS works well with other marketing channels. Text messages can boost the effectiveness of other channels you use, for instance, email. Using SMS and email marketing together can bring you better results than using either just one or the other alone.
Brand example: How Kiehl's reached 90% of in-shop purchases using SMS alerts
Kiehl's is an American cosmetics brand that has set the goal to improve customer loyalty using SMS messages.
They called it Kiehl's Alerts and promoted the campaign in-store, online, via emails, and social media. So customers could either text a keyword to Kiehl's short code to opt-in or join the program online.
The idea was to target customers based on their location and send relevant offers. Those who agreed to share their location with Kiehl's would get an SMS alert with a promotion whenever they were within a certain radius of one of the Kiehl's stores.
The result? After six months, Kiehl's found out that 73% of the customers who subscribed to their marketing campaign made a purchase. The survey that was conducted after the pilot campaign indicated that 81% of respondents have subscribed to Kiehl's alerts, which means that of all people who recalled receiving messages from the brand, 90% ended up purchasing in stores.
How to reward customer loyalty using text messages?
It would be great if you could just start sending text rewards to your customers right away; unfortunately, there are things to keep in mind for your SMS loyalty program to bring positive results.
Here's what you can and need to do to prepare.
1. Come up with a memorable name
Creating something unique but so simple that it's genius is not an easy task, although this is what you should aim for when coming up with a name for your SMS loyalty program.
Customers shouldn't work too hard to remember it and, more importantly, the name should stand out from other competing loyalty programs.
Again, take Kiehl's, for example. Kiehl's Alerts is simple, descriptive, easy to recall, and you can instantly assume what it is. Including a company's name in the title is also a good idea since this makes it easier for customers to connect the program with a specific brand.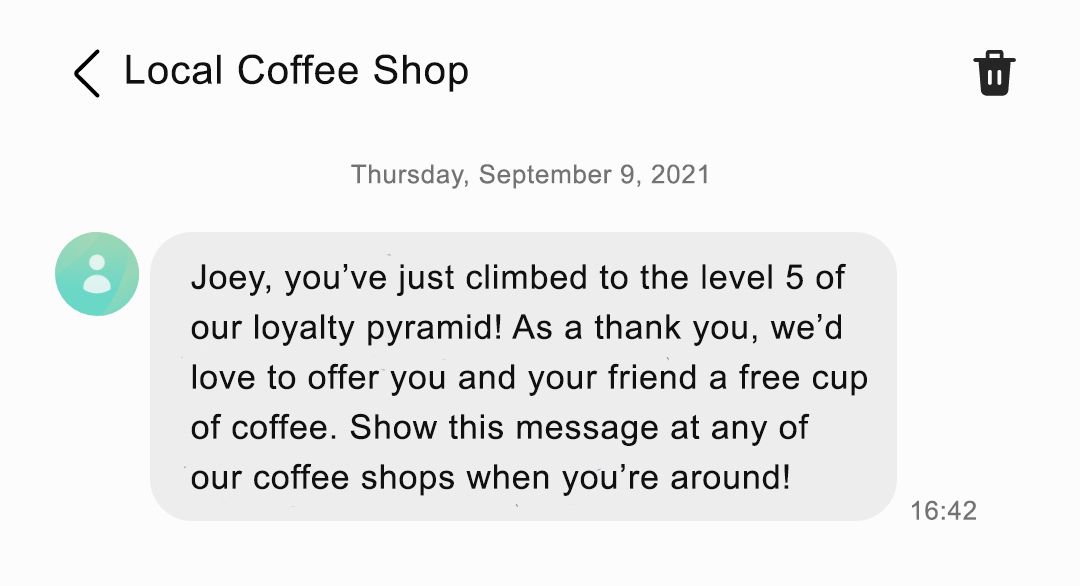 2. Find the right system to reward your customers
There's no one correct way to decide what incentives to offer to your customers. Let's say it's entirely up to your customer behavior and needs, and a bit to your imagination as well.
The key here to remember is that your loyalty program should offer real value to your customers so that they'd want to stay a member. Rewards can vary from points to discounts to gifts, based on your customers' preferences.
You can actually ask customers to tick a few extra boxes when signing in to let you know what they are most interested in. This way, you'll know you're sending messages that are truly relevant to your audience.
3. Decide on timing and frequency
For SMS messages, deciding on the right frequency and timing is essential. Too many messages or messages sent at the wrong time can drastically increase your SMS opt-out rates, making you lose potential customers.
Frequency. The general trend for the frequency of SMS messages is 4-5 messages per month (1-2 per week). Of course, as long as your offers are valuable, one or two more shouldn't be a problem. Just let your subscribers know how often they can expect to hear from you from the beginning of your relationship; for instance, include this information in your welcome message.
Timing. The best time to send SMS messages can depend on your business and audience – it's when you think they're most likely to take action. However, it's always recommended to stick to business hours when planning your loyalty texts.
4. Don't take your SMS copy for granted
When crafting an appealing SMS to loyal customers, following the best practices of writing a good SMS copy is essential.
It generally consists of five elements:
Introduction – addressing a customer and identifying your brand.
Body – offering something valuable.
Call-to-action (CTA) – telling a customer what you expect them to do next.
Short links – sending a customer to the exact destination where they can benefit from the offer.
Opting out – including the instructions to unsubscribe.
The key is to be concise. Text messages have a limited character number and are straight to the point in nature, so try to keep them this way.
5. Offer a valuable incentive for joining your SMS loyalty program
Now that you have everything prepared, you need someone to send those messages to. You can achieve this in several different ways and take advantage of other marketing channels to promote your text-based loyalty program.
To get people to opt-in, you can:
Promote your loyalty program in-store. Come up with a keyword that visitors can text to your short code and display it somewhere visible.
Let your email subscribers know about your SMS loyalty program. Include the instructions to opt-in in the next newsletter you send to customers.
Add a sign-up form on your website. Generally, such forms appear in the footer, making them easy to access from anywhere.
Organize a "text-to-win" competition. For this, you can also use social media to invite followers to participate by texting a keyword to your short code.
Use pop-ups. Another common way to ask people to subscribe – add a pop-up on your website where people can leave their phone numbers in exchange for some incentive.
6. Look for different opportunities to boost customer engagement
It's easy just to let it flow if everything's going well, but you never know how long it will last. Your customers can and will get bored if you don't vary your content, so it's important to keep it engaging to keep them subscribed.
For instance, you can ask your subscribers to vote on future offers (e.g., What offers you're most interested in?). This would give you a better understanding of your audience and what benefits they're looking for, and show them that you care and value their opinion.
One more option would be to create a short trivia with prizes or rewards. People love free stuff, and they'll likely take a chance to participate.
PRO TIP: Make sure to include rewards that highlight the benefit of being a part of your loyalty program. For example, in your SMS copy, include words like "for loyal customers only" and similar to show how exclusive it is and also encourage more people to join the program.
7. Track the results and improve
It would be barely possible to know how you're doing and improve your campaigns if you don't follow the results of your efforts.
Some of the metrics that you can keep an eye on to help you to determine how successful your text loyalty program is are:
Subscriber growth rate – measures how much your subscribers' list has grown (%) over the specific time period.
Click-through rate – measures how many of your subscribers followed the link you've included in your texts.
Conversion rate – measures how many of your subscribers completed the desired goal out of the total number of people who clicked through.
Attrition rate, also known as churn rate – measures the rate at which people leave your loyalty program.
Acquisition cost per subscriber – measures how much it costs to acquire one paying customer on a campaign or channel level.
Return of investment (ROI) – a metric used to evaluate how well your investment has performed. It's calculated by dividing an investment's net profit (or loss) by its initial cost or outlay.
Of course, you can also come up with your own KPIs based on your campaign/business goals.
Build customer loyalty with SMS messages
If you want to build stronger, more genuine connections with your customers, SMS is the way to go.
Adding text messages to your loyalty program can be a powerful way to retain customers and keep them loyal to your brand. What's important to remember is that, like any other campaign, SMS also needs to be planned carefully, following the best practices and with great attention to your audience. This way, you'll be able to get the best out of the channel that many users find so appealing.