Everybody writes. Although for most of us, texting for fun or answering work emails is usually the extent of it.
For marketers, however, simply sending a message and getting users to read it is not enough. As a marketer, you spend your time and money to connect with your audience, yet (although very important) the connections you build are not your end goal.
If you want people to ACT on your offers, you can't underestimate the power of a good SMS copy. A text message might look simple but it still has a few important rules that you have to follow to drive success with your SMS marketing campaigns.
In this post, you'll go through the anatomy of an engaging SMS message and learn how to get better at texting your customers, therefore, increase your conversion rates.
The anatomy of a great marketing SMS copy
Although still underestimated by too many businesses, SMS messages can be a highly effective tool in your marketing arsenal.
SMS comes with up to 98% open rates (one of the highest among all marketing channels) and a vast majority of people tend to read text messages within the first 3 minutes of receiving them.
However, such results don't just come naturally.
If you expect your text marketing campaign to deliver ROI, you have to carefully consider your content for SMS marketing and learn to write a text that sells.
This means keeping in mind the anatomy of a perfect text message:
Introduction
Body
Call-to-action (CTA)
Short links
Opting out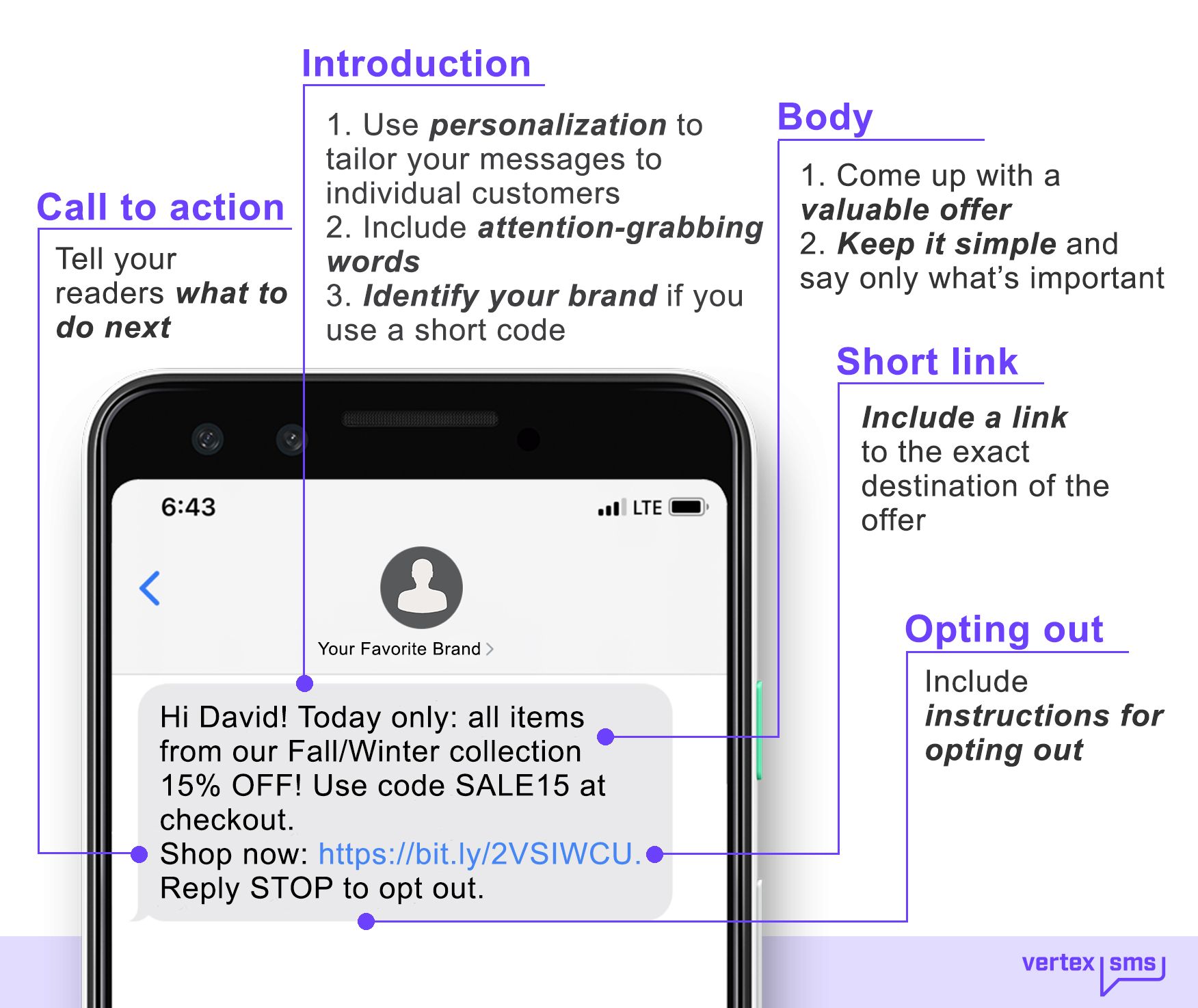 Let's analyze it in more detail.
Introduction
As with any written (or spoken) content, the introduction part of your SMS copy is crucial and determines the further success of your message. If you can't grab the reader's attention with the first words, there's a chance they might not even reach your CTA.
How to start your text message copy to encourage your subscribers to read further?
1. Personalize
Start your messages by addressing the person you're sending them to. This will show that you treat them like an individual rather than just a part of your mass messaging list.
Recent studies also show that 54% of customers would be more likely to buy from a brand if they personalized their marketing texts. Not only that – 70% of those who receive them say they are more likely to refer a company to their friends or family.
So this helps you fill two needs with one deed.
2. Use attention-grabbing words
To instantly catch the reader's attention, use the words that will arouse their interest and indicate some kind of value. For instance:
Weekend sale!
Only today!
60% off!
Last chance!
Special offer, etc.
3. Say who you are
People who sign up for your marketing messages actually WANT to hear from you. If you deliver SMS under a shortcode, consider telling them who you are at first. Seeing the name of a brand they like can boost their engagement with your content.
PRO tip: Try to keep the introduction under 15 characters long to fit into SMS character limits.
Body
Text message body is the main part of your copy where you tell the reason behind sending your customer a specific text message and the "requirements" they have to meet to benefit from it, if any.
Here are a few examples:
Order any item from our newest collection and get 15% OFF your next purchase! Offer is valid until 15/09/21.
Book a table at our restaurant for tonight until 4 PM and receive 10% OFF the whole menu.
We'd love to see you at our store this weekend! Show this message to our staff Fri-Sun and get a 10% OFF all footwear.
It is recommended to keep it simple and under 120 characters. In other words – say only what's important, without the fluff.
Call-to-action and short links
CTA is another integral part of a text message copy. If you managed to grab the reader's attention and offered a valuable deal, the last step to success is to tell them exactly what to do to get it. And show them where by including a relevant short link.
It should look something like this:
Visit our store: [[short link]]
Buy now: [[short link]]
Shop online: [[short link]]
Click here: [[short link]]
Grab the deal: [[short link]]
Try out for free: [[short link]]
Get discount: [[short link]]
Make sure to direct your subscribers to the exact destination of your offer so that they won't need to take any extra steps and search for it themselves.
Opting out
In some countries, an opt-out option is required with every message and you must include this information at the end of your SMS copy. Before crafting your SMS campaigns, check if that specific country falls under such text marketing laws.
At this point, you should still have a few characters left and can use them to include the required instructions: "Text STOP to opt-out", "STOP=opt out", "Reply STOP to opt-out", etc.
Text message tips: how to write a good marketing SMS
Now that you know how to put an effective SMS copy together, let's go through some general SMS writing tips to keep in mind before sending text messages to your subscribers.
1. Know your audience
When you know who you're talking to, it's easier to find the right tone and come up with offers that are relevant to that specific group of people. Learning as much as possible about your customers will simply make your marketing efforts more effective since you will be able to adjust your texts to their needs.
For this, use all the data available, divide customers into segments based on different criteria, you can even collect important information by sending surveys and asking your subscribers about their preferences directly. The more you know, the more precise you can be.
2. Use SMS marketing power words
Power words are the words that help you convince your readers to follow your offer. Mostly, they evoke emotions, imply reasons, answer questions, grab attention and nudge customers in the right direction without them even knowing.
So when writing your future messages, try to include:
You. Such a simple word, yet if you've ever noticed, most of the marketing content is written for you, bringing a brand closer to the consumer.
Save. If there's a chance to save money, most of the time people will just go for it.
Because. People need a reason why, and because provides them with answers.
Guaranteed. It's one of the strongest words in the sales context overall. Guaranteed indicates that there are no risks and there's nothing to lose, therefore, encourages people to act.
Easy. If something comes with no effort yet can make it all better for you, wouldn't you want to try it? However, make sure that whatever you offer is easy, otherwise, it can make your customers angry.
Free. Well, this one probably speaks for itself.
3. Avoid abbreviations and slang
Using abbreviations and slang in everyday text messages is quite common, but not when it comes to business SMS. You're risking being perceived as unprofessional and driving your customers away, not to mention that they might simply not understand what you're saying.
If you find it difficult to fit your message into 160 symbols, try to find another way around. Say it differently or change the structure of the sentences, but don't sacrifice your efforts by stuffing your text with street talk.
4. Add urgency
SMS as a channel is great for time-sensitive deals. Combining that with urgency can help your customers to make purchase decisions that you'll benefit from.
In general, a sale doesn't last forever, but specifying the exact moment when it's going to end can trigger the fear of missing out (FOMO). It's a psychological construct that makes customers act on something instantly while the offer is still available.
Phrases that inspire FOMO:
Limited-time offer
Order before it's gone
Today only
Last chance
Act fast
Stocks are limited, etc.
5. BONUS: Mind the timing
It's crucial to consider timing before planning your SMS marketing campaigns. The right message sent at the wrong time can still easily ruin your text messaging goals.
Although there is no universal best time to send SMS messages to your subscribers, you can still follow some common practices and determine the timing based on the content of your message. In other words, the best timing to send a message is when your customers can act on it.
Think of when you wouldn't want to be disturbed by promotional messages yourself. Some common times to avoid include evening after work or, obviously, nighttime. If you have to send a message during the weekend, Saturday mornings before everyone is busy with their plans are still acceptable. The same goes for Sunday evenings when most people are just winding down and preparing for the new work week.
Effective SMS copywriting for SMS marketing success
Using a trusted SMS format can not only make your marketing texts more effective but also reduce the effort on your part. You might think that following these rules will make your SMS messages look robotic after a while, yet the end result totally depends on your creative skills. Knowing how to put your ideas into a proven "frame" will help you keep them simple and clear enough for customers to understand. And that's what you want so that they'd ACT on your offers.