Every spring, an incredible number of people all over the world hurry to retail stores and online outlets for one reason - to find something special for Mother's Day.
With many non-essential stores still closed this spring, customers will be looking once again to ecommerce stores. So before the important day reaches us, it's important to get your Mother's day marketing ideas up and running.
For Mother's Day, we have gathered 15 Mother's Day SMS templates and campaign ideas so you could start preparing your online store and encourage shoppers to choose your online store over others.
Customer behaviour during Mother's Day
Mother's Day is in the 3rd place of holiday spending just after Christmas and Valentine's Day - last year Mother's Day spending reached $26.7 billion with an average spending of $204.74 per person, according to the National Retail Federation.
Odds are that people will be celebrating even bigger this year to make up for last year's socially distanced holiday. This creates an excellent opportunity for retailers to make some extra revenue as well as nurture relationships with their customers.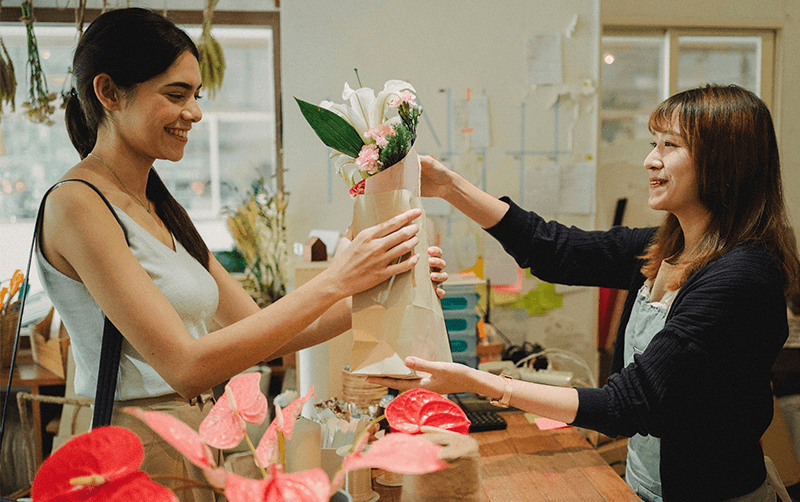 Of course, no one wants to let this perfect moment to connect with customers slip by. Soon enough, email inboxes will be filled with Mother's Day promotions and greetings, social media feeds will flood with mom-inspired posts, TV and radio ads will remind us of the special day coming up. You need to devise a spot on Mother's Day promotion ideas to stand out in all of this.
One way to grab your customers attention and get that special connection is, of course, with Mother's Day SMS messages.
Making the most of Mother's Day
With every holiday, ecommerce merchants have to keep a few things in mind to successfully stand out the competition and execute their campaigns:
Remind your customers early on that a special day is soon upon us. Most people will start looking for gifts a few weeks ahead, especially from online stores, to ensure the shipments will arrive on time. Put your store in a holiday spirit - use relevant themes throughout your store. For example, a floral motif could put your customers in Mother's Day spirit.
Understand your target audience. The shoppers aren't only sons and daughters, but also husbands, fathers, grandfathers, grandchildren, etc. Keep this in mind when crafting your Mother's Day campaign ideas - which products to sell and how to display them.
Create bonds through genuine emotions. Not everything you do has to result in a sale, sometimes it's beneficial to reach out to your customers with a different intent - to make them smile.
As SMS messages provide a personal approach you can be a few steps ahead of your competitors and influence customer behaviour by invoking the right mix of emotions.
Checklist for creating an SMS campaign
Remember, there are a set of rules when it comes to promotional SMS campaigns.
1. Get permission to contact customers. You cannot just start sending SMS messages to customers, they first need to opt-in to hear from you.
2. Always introduce yourself. Use your brand name instead of a number and/or sign the message you send.
3. Keep the message simple. SMS messages are limited to 160 characters, you want to stay short and clever to get the desired result.
4. Include a call to action. Be clear on what step the customer should take next.
15 Mother's Day SMS templates
Without further ado, let's take a look at some Mother's Day promotion ideas and universal Happy Mother's Day templates to get your customers into shopping mode.
1. Send a warm greeting
Simple greetings without the intent to sell may go a long way in building your business-customer relationship.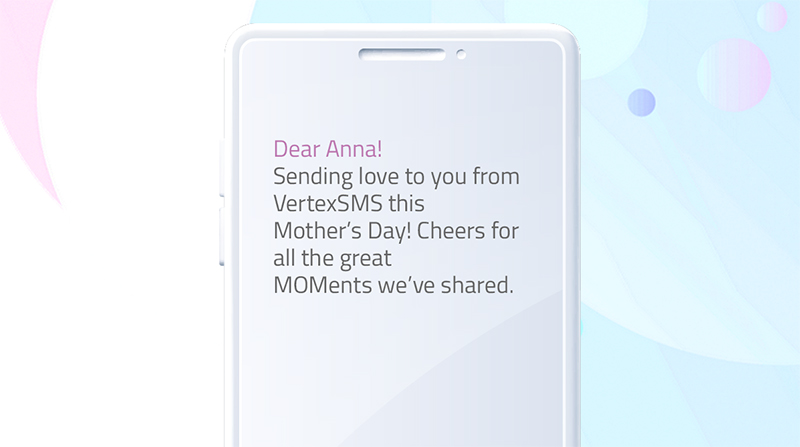 Template #1
Happy Mother's Day, [CustomerName]! We hope you will be able to celebrate the special day with your loved ones! [CompanyName]
Template #2
Dear [CustomerName]! Sending love to you from [CompanyName] this Mother's Day! Cheers for all the great MOMents we've shared.
2. Create a sense of urgency
Template #3
Take a mom-ent to celebrate! Check out our special Mother's Day gifts and deals. Browse now while stock lasts: [SiteLink]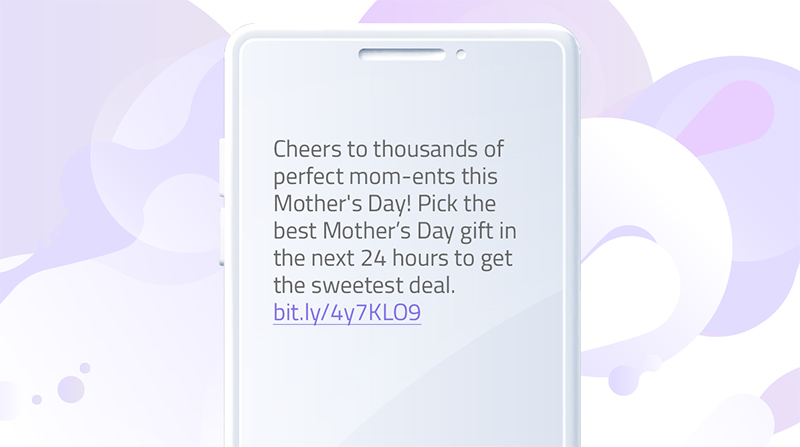 Template #4
Cheers to thousands of perfect mom-ents this Mother's Day! Pick the best Mother's Day gift in the next 24 hours to get the sweetest deal. [SiteLink]
Template #5
Hello [CustomerName]! Last day to ship it for free and get it before Mother's Day. Find the perfect gift here: [SiteLink]
Template #6
Hi, [CustomerName]! It's your chance to save up to 50% on an exclusive Mother's Day Sale. Shop Now: [SiteLink]
3. Offer an extra perk
Shoppers love to receive free stuff. Use it to your advantage.
Template #7
Get something special for your Mom this Mother's Day and receive a free gift with your order. Shop Now: [SiteLink]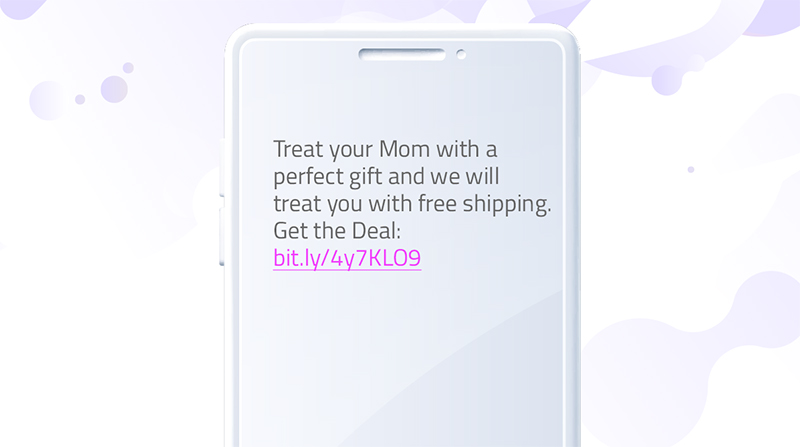 Template #8
Treat your Mom with a perfect gift and we will treat you with free shipping. Get the Deal: [SiteLink]
Template #9
Our Mother's Day deals are here. Surprise your mom with our MOM-believable gift set and receive a special treat at the checkout: [SiteLink]
4. Use segmentation
Target a specific group of your subscribers to grab their attention.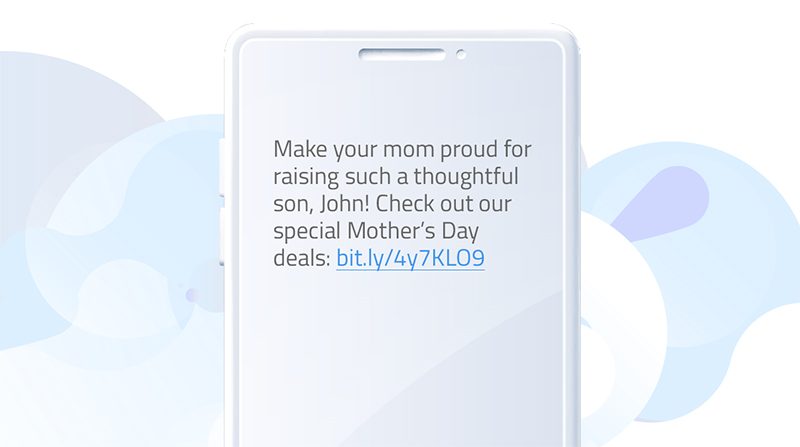 Template #10 (for male customers)
Make your mom proud for raising such a thoughtful son, [CustomerName]! Check out our special Mother's Day deals: [SiteLink]
Template #11 (for male customers)
Here's little something to help you be the best daughter your mom could wish for. Treat her to our special Mother's Day collection: [SiteLink]
Template #12 (for male customers)
You da MOM [CustomerName]! Treat yourself this Mother's Day with something special and get an exclusive Mother's Day surprise: [SiteLink]
5. Send a reminder of the upcoming Mother's Day
Template #13
Treat your mother to something special and make Mother's Day a day to remember. Great deals await here: [SiteLink]
Template #14
There's no greater gift than a mother's love. Let your mother know how much you appreciate her by getting her something special. Shop now: [SiteLink]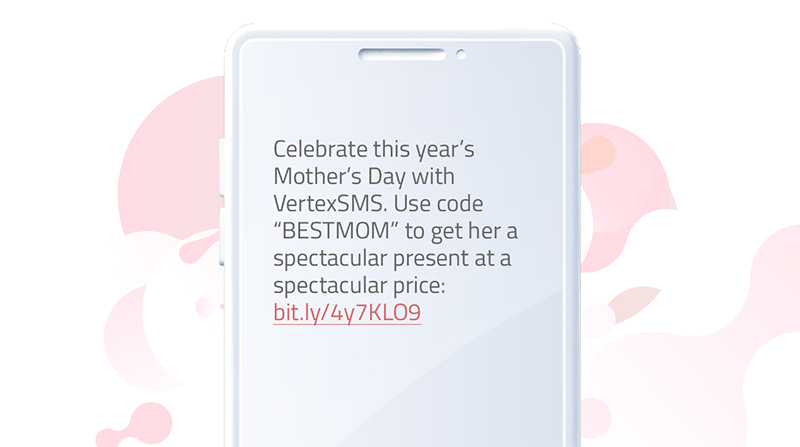 Template #15
Celebrate this year's Mother's Day with [CompanyName]. Use code "BESTMOM" to get her a spectacular present at a spectacular price: [SiteLink]
To wrap up
Like any other holiday, Mother's Day is a perfect opportunity to connect with your customers, offer them something special and show your appreciation towards them. With a personalized SMS campaign, you are sure to win their hearts and make them smile.
Get inspiration from our Mother's Day SMS templates, adjust them for your business needs, make all the special moms happy, and don't forget to send your mom a text message this Mother's Day!