What is the difference between good and great promo messages? It's personalization that can increase the SMS open rates significantly, as backed by years of experience from VertexSMS Key Account Manager Jonas Valeisa.
This is also seen from the recent data on personalization which shows that 72% of customers only engage with personalized messaging.
With personalization in mind, we have put together a list of promotion text message examples. These message templates are ready-to-use but can be easily altered to fit your business needs.
Checklist for effective promo messages
Promo messages' intent is for the customer to make a purchase. Therefore, there are a few other things besides personalization to keep an eye on when crafting a campaign for SMS.
Promotional messages will deliver better results if you follow the basics:
1. Always have permission to contact customers
SMS messages are permission-based so make sure people have opted-in to receive messages from you. You should also include an easy way for people to opt out.
2. Make sure to include your business name
Without a clear indication of who the message is from, your promotion could be easily considered as spam.
3. Consider timing
Think about when your customers are most likely to read and engage with your message. If you have a coffee shop you might want to reach out to customers early in the morning. If you, however, run an e-commerce store, it makes more sense to schedule your message around noon when people have time to browse your store.
4. Target specific groups
It is really simple to segment your audience to provide relevant content to customers. You can create different lists based on people's age, gender, location, previous preferences, etc.
5. Include a clear call-to-action
By including a clever CTA, you will be able to nudge customers to take the needed action. You can benefit from urgency with phrases like "Last chance to...", "Don't Miss Out and Buy Now," etc.
6. Analyze your results
Always make sure you do an in-depth analysis of how your campaign works to understand how you could improve.
PRO tip for tracking your promo message results
Our team's experience shows that the best way to understand how your campaign works is to use a trackable link in your promotion text message.
In fact, the inclusion of links in promo messages is so effective that one of our biggest clients has decided to use links in all of their marketing messages. This is one of the best ways to really understand your customer behavior - everything from clicks, conversions, etc.
What to avoid in promo messages?
Promotional messages are by nature promotional. However, the trick to putting together an excellent promo message is not to come off as too salesy.
For this, avoid sending messages that:
Don't provide clear value to customers
Are too frequent and pushy
Overuse caps lock or include buzzwords like "free" or anything else that could come off as spam
The main thing to do when trying to write a great promotional message is to simply send customers something that you yourself would be happy to receive from a business.
16 Promo messages templates
Let's cut to the chase. Here are the promised messages examples to strengthen the relationship with your customers and boost sales.
You'll find:
Templates for onboarding
Flash sale promotion examples
New product launch templates
Free trial promotion examples
Promo templates for loyal customers
Templates for onboarding
As mentioned earlier, text message marketing is permission-based. Therefore, the first messages you send to your customers are the most important ones as these will be the sole foundation of your (texting) relationship.
Use this chance to set the tone of the experience your business provides and provide them with the information they need to know. And don't forget to ask them to opt-in.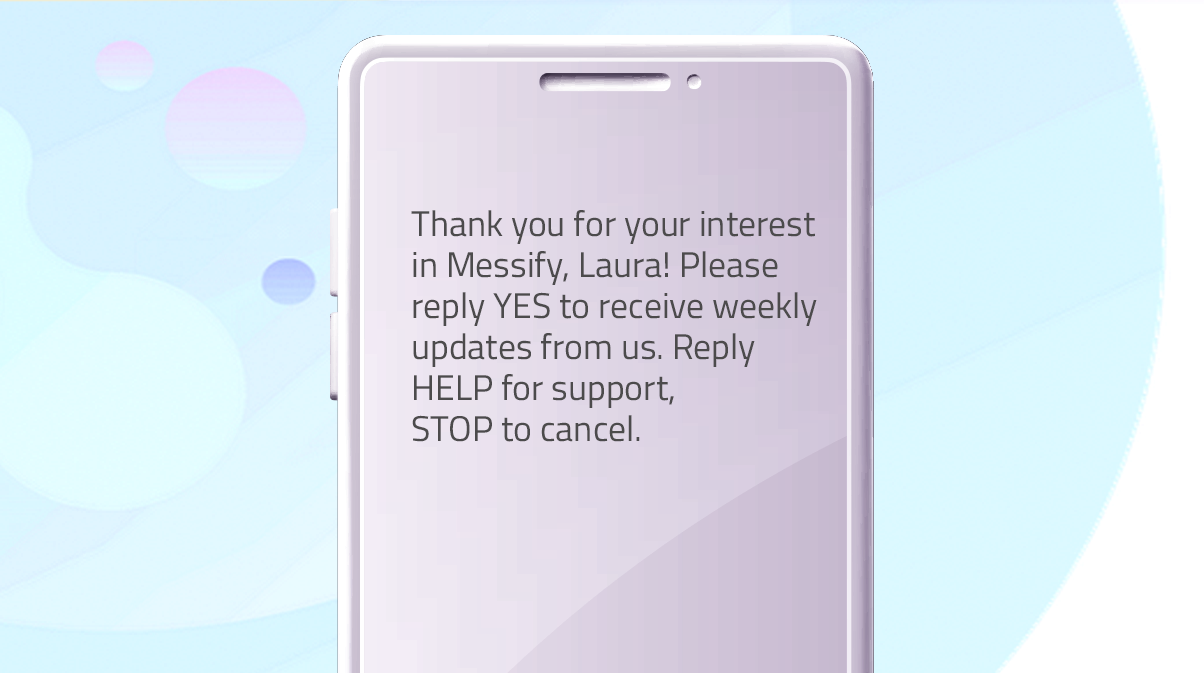 Template #1
[Site_Name]: Hello, [First_Name], thanks for opting in to receive SMS updates from [Company_Name]! Please reply with Y to confirm. Text STOP at any time to unsubscribe.
Template #2
Thank you for your interest in [Company_Name], [First_Name]. Please reply YES to receive weekly updates from us. Reply HELP for support, STOP to cancel.
Once you have received their consent, you can move to the next stage of onboarding. Now it's the chance to share some information and show you care.
Template #3
Hi, [First_Name]! We're happy to see you decided to purchase [Product_Name]! It's designed to help you [List_Benefits]. If you have any questions, text HELP or see our FAQ [Insert_Link]
Template #4
Thank you for purchasing, [Product_Name], [Customer_Name]! For more information, consult our product guide. [Insert_Link]
Template #5
We're excited to see you found something you like, [Product_Name], [Customer_Name]. Use code [Customer_Name_20] to get 20% off of your next purchase. [Link_To_Store].
Flash sale promotion examples
Keep your customers interested by creating urgency and hype. For this, flash sales that offer savings for a short period of time can work magic.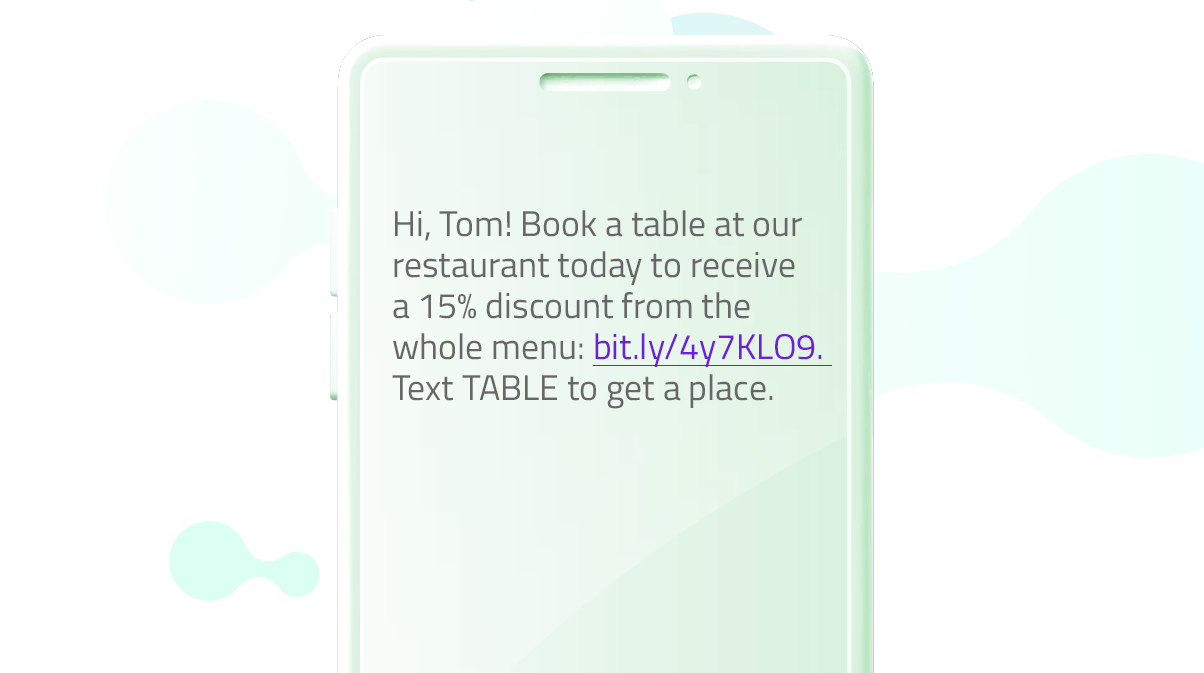 Template #6
Hello, [Customer_Name] Looking for a new summer outfit? Get 25% off our new collection. The sale ends this Sunday. [Insert_Link]
Template #7
Hello, [Customer_Name]. Surprise your loved ones with a special gift. Shop this week to get a 20% discount on all items. [Insert_Link]
Template #8
Hello, [Customer_Name]! We would love to see you at our seasonal opening party. Get your early bird tickets now. Get your tickets before midnight to receive a 20% discount. [Insert_Link]
Template #9
Hi, [Customer_Name]. Book a table at our restaurant today to receive a 15% discount on the whole menu. [Insert_Link] Text TABLE to get a place.
New product launch templates
Customers who have opted-in to receive messages from you are eagerly waiting to hear what you have to offer. Use this opportunity to inform them as soon as you have new stock available.
Template #10
Hi, [Customer_Name]! The wait is finally over - the NEW LIMITED EDITION sneakers have arrived. Hurry and shop before they sell out. [Insert_Link]
Template #11
[Customer_Name] We are happy to announce that some of your favorites from the past are back. Browse now and receive 10% at the checkout [Insert_Link]
Free trial promotion examples
If you have a product or service that includes a free trial, you might want to strengthen your relationship with customers before their free trial runs. This ensures that they are more likely to keep using the product after the trial period ends.
Template #12
Hello, [Customer_Name]! Have you enjoyed using [Product_Name]? If you need more time to browse around, use promo code [Keyword] to get 10 more days for free: [Insert_Link]
Template #13
[Customer_Name], are you running out of time? Reply YES to receive 50 more trial credits in your account: [Website_Link]
Promo templates for loyal customers
Loyal customers are the ones who are likely to spend the most with you. Show them some extra love to keep the relationship alive and healthy.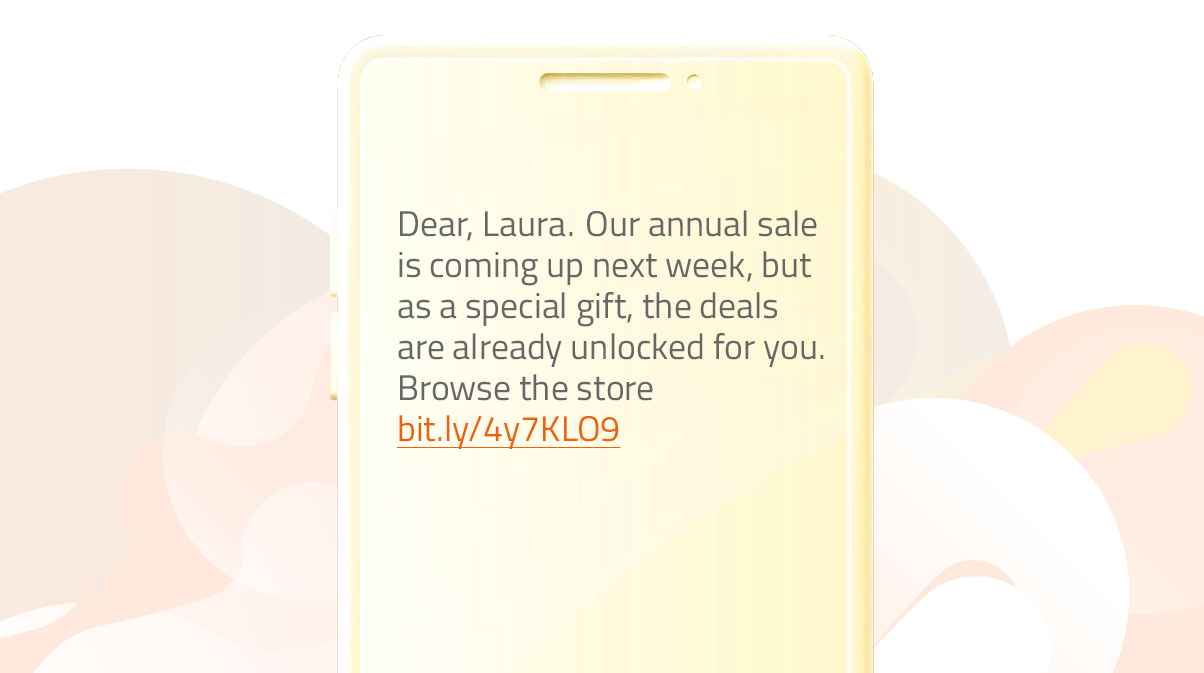 Template #14
Dear, [Customer_Name]! Our annual sale is coming up next week, but as a special gift, the deals are already unlocked for you. Browse the store [Insert_Link]
Template #15
We're glad you've been with us for such a long time, [Customer_Name]. Here is something to brighten your day. Redeem your gift [Insert_Link].
Template #16
Hello, [Customer_Name]. We believe you'll find something for you and for your special someone from our new stock. Use code CUSTOMERNAME to get the 2nd item for free.
To sum up
For building a strong relationship over promotional SMS messages, make sure you understand which information customers want to receive. Stay true to your brand, offer exciting deals and engage customers in conversation.
This way you will definitely see a boost in your sales in no time.