If you have ever forgotten your phone at home, you've probably gone through that millisecond of a slight fear – "What now?"
A lot of people keep their phones within arm's reach all day which makes them a perfect target for various businesses. It is now convenient to use this 24/7 dependence to engage with customers and keep them in the loop, and SMS marketing is one of the most effective ways to do it.
Therefore, SMS automation tools have become increasingly popular as they allow businesses to avoid many manual tasks, thus saving time. You can just concentrate on other important things while automated text messages keep working on their own.
Below you will learn what SMS marketing automation is, what benefits it brings, and go through some of the most common types of automated text messages for business for inspiration.
Let's dive in.
What are automated text messages and how do they work?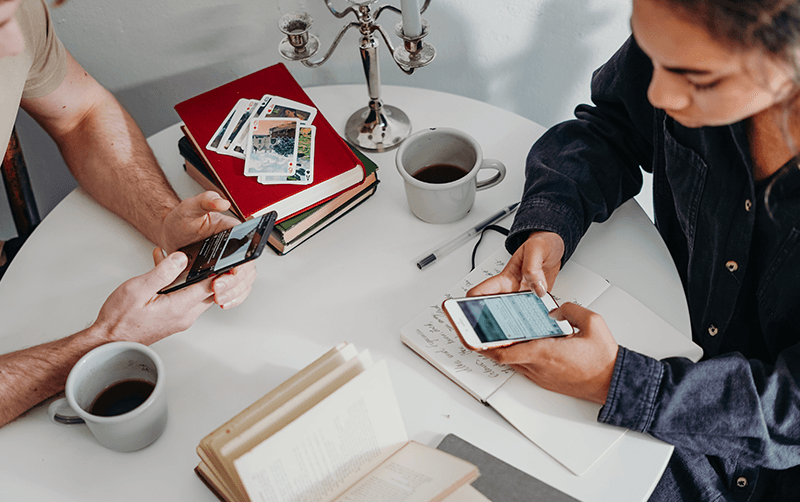 Automated text messages are pre-written SMS messages that can be either triggered by some predefined criteria or scheduled to be sent to individuals or a group of people (bulk SMS) at a specific time and date.
For instance, if you have a product update coming up and you want to let your subscribers know about it, you can craft your message in advance and set it to be sent automatically at your chosen time.
As for the triggers, there are many options. When we talk about SMS automation, trigger refers to some action related to the user/customer. For instance, if someone opts-in for your SMS marketing messages, this action (a trigger) can be followed by an immediate auto-reply (automated SMS).
We'll go deeper into that in no time, but now let's highlight some key benefits of automatic text messages.
The benefits of sending automatic text messages
1. Save time. "Automatic" is a keyword in this context which also makes it the most obvious benefit of SMS automation. Automated text messages allow you to eliminate repetitive tasks which means that you'll have more time to focus on other areas of your business.
2. Clearer work structure. By using SMS marketing automation, you will be able to know exactly what and when is sent to your customers, see what messages work and where you can improve.
3. Nurture customer relationships. You are simply not able to keep reaching out to each of your customers with promotions or reminders manually, but that's where automated text messages come into play. They help to engage customers with little or no manual intervention.
4. Integrate with other channels for better results. Automated text messages can be combined with your other marketing efforts, for instance, email newsletters, to boost their performance. With SMS open rates being as high as 98%, it's a perfect way to encourage people to read your latest email if they haven't done it yet.
5. Generate new leads. One of the ways to do this is to organize a contest or giveaway where your visitors would text a keyword to participate. In return, they will receive an automatic text message with further instructions or reward, and you'll get a new subscriber added to your database.
6 automated text messages to send to your subscribers
1. Welcome messages
A welcome message itself doesn't directly impact your sales, but it plays an important role in customer engagement and experience.
It gets you the chance to greet the subscriber who has just joined your list and make a good, long-lasting impression. In addition to that, a well-crafted welcome message can serve many other goals, like:
Have consent to send the message in the first place. People have to opt-in to receive messages from you before you can start sending text messages to them. Besides, it's important to keep the opt-out option easy and simple.
Confirm that the subscription was successful
Help subscribers with the onboarding process
Offer a limited-time welcome deal
Encourage to visit your website and explore
Let subscribers know how frequently they can expect to hear from you
Show your gratitude, etc.
Put simply, by sending an automated welcome message, you can show your appreciation for someone joining your list and set the tone for future communication.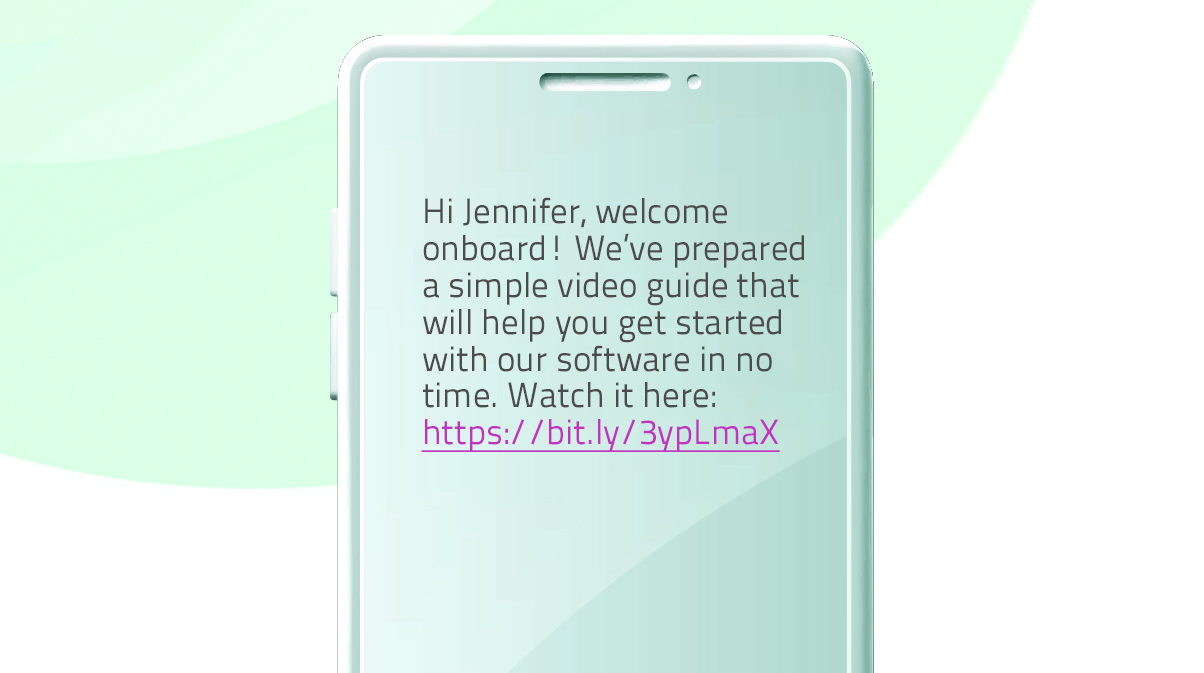 2. Confirmations
No matter if you run an e-commerce store or a dental clinic, confirmation messages can help to keep your customers more at ease. They can prevent miscommunication, unnecessary customer support inquiries, or in other words, reduce the uncertainty about the recently performed action.
For example, imagine that you've just ordered new shoes. You paid for your purchase, the transaction seems to be successful but there are no signs of order confirmation neither in your email nor SMS inbox.
Is that it? Are you going to get those new shoes? Should you try reordering again or contact the company just to make sure?
Automating this part of the process will keep your customers calm and boost their satisfaction with the brand, allowing you to also give directions for the next steps for better engagement.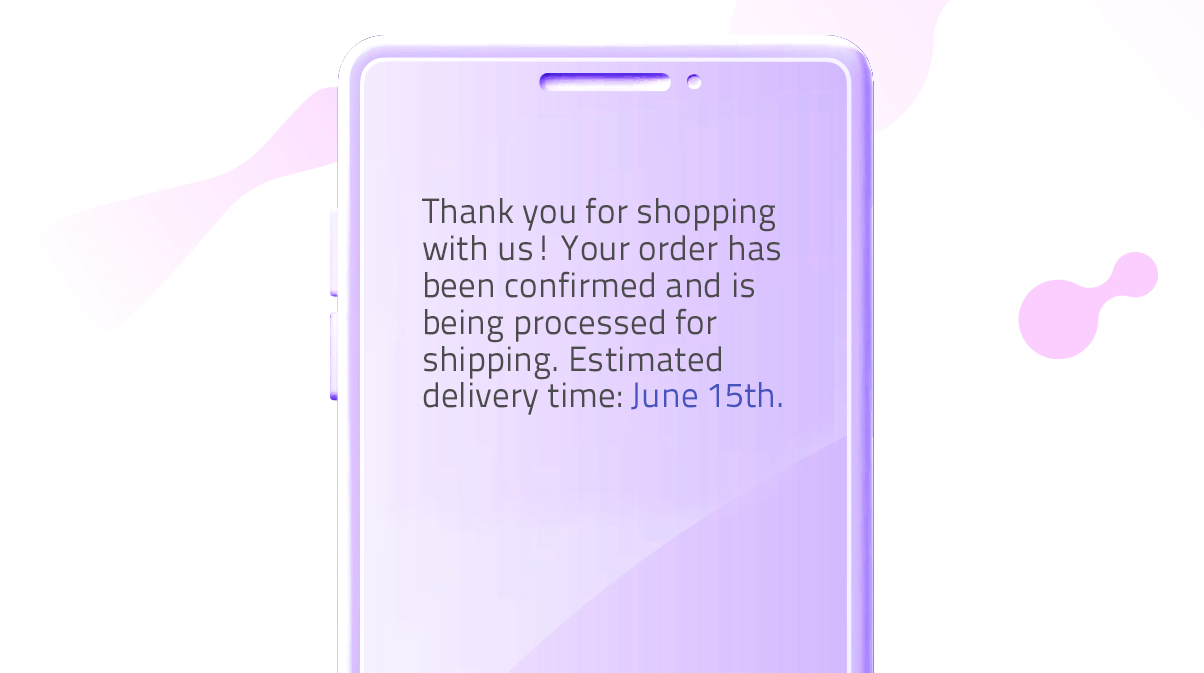 3. Reminders
Automatically sent SMS reminders and various updates are especially beneficial to those services that require appointments or quick reaction to any possible changes.
To give you an idea, using appointment reminders in the beauty/health industry can help reduce the number of no-show clients, thus preventing revenue loss. If you want to make sure that the person who has booked a full-body massage on Friday is really coming, send them a reminder 24 hours in advance and ask to confirm.
Another good practice in this situation to ensure that the customer will be coming back is to give an option to easily reschedule. Include a link to the website where your clients can change the time and date of their visit, and avoid answering many calls asking for you to do it.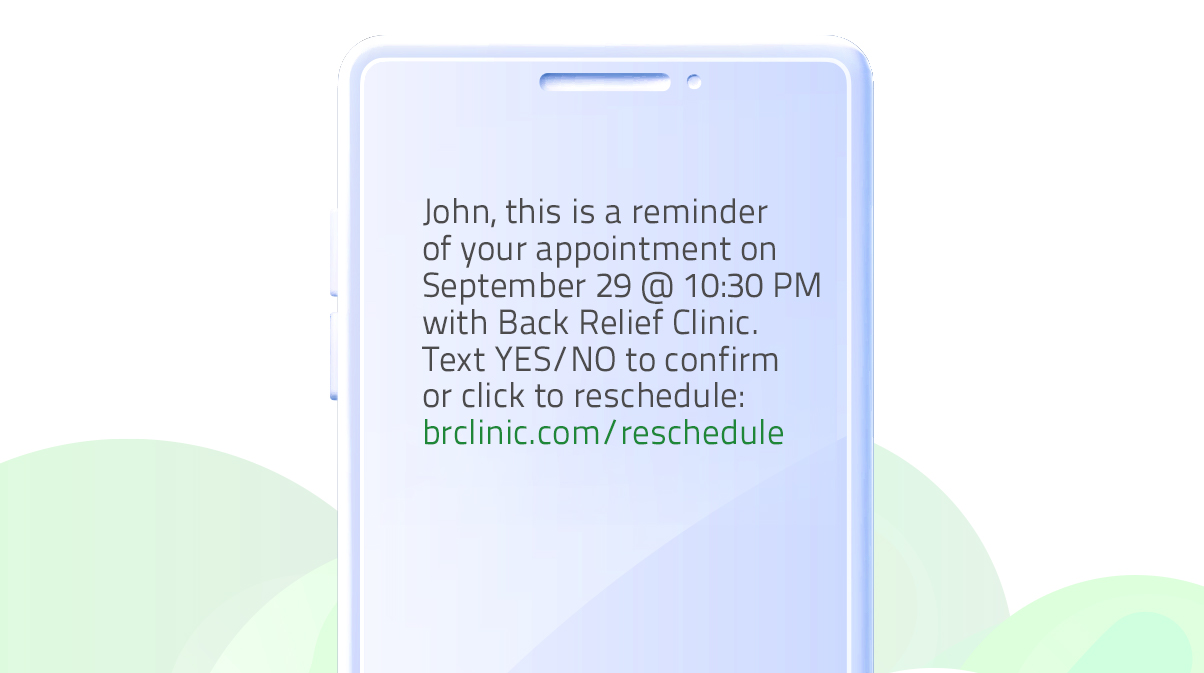 4. Cart abandonment
For e-commerce, cart abandonment is a real struggle. 88.05% of online orders were abandoned in March 2020 which means that the majority of sales were lost being just one step away. Too much, isn't it?
Depending on the reason, some customers will come back to finish their orders later. Others might have encountered a problem that inspired them not to complete the purchase, for instance, high shipping costs.
Cart abandonment automation is used to remind and encourage shoppers to come back and complete their orders by offering something beneficial in exchange and boosting the chances of finalizing that sale.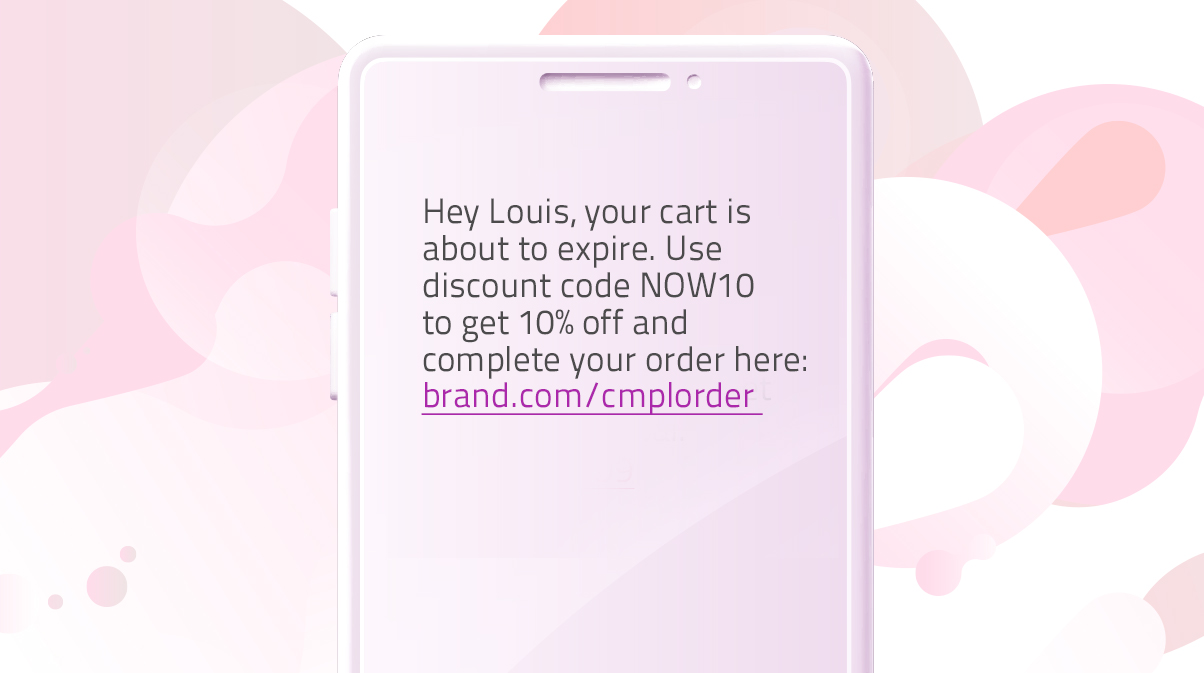 5. Win-back customers
Automated text messages can also be used to re-engage with people who have shopped with you before but haven't been active for a while. For instance, you can set up a trigger (e. g. after 6 months) that will send a text message with an incentive to your customers, encouraging them to come back and shop again.
Your goal should be to win them back with as few messages as possible so you wouldn't sound too aggressive. Starting with a gentle nudge in the right direction might be a good idea, but offering something beneficial can boost the chances that it'll work.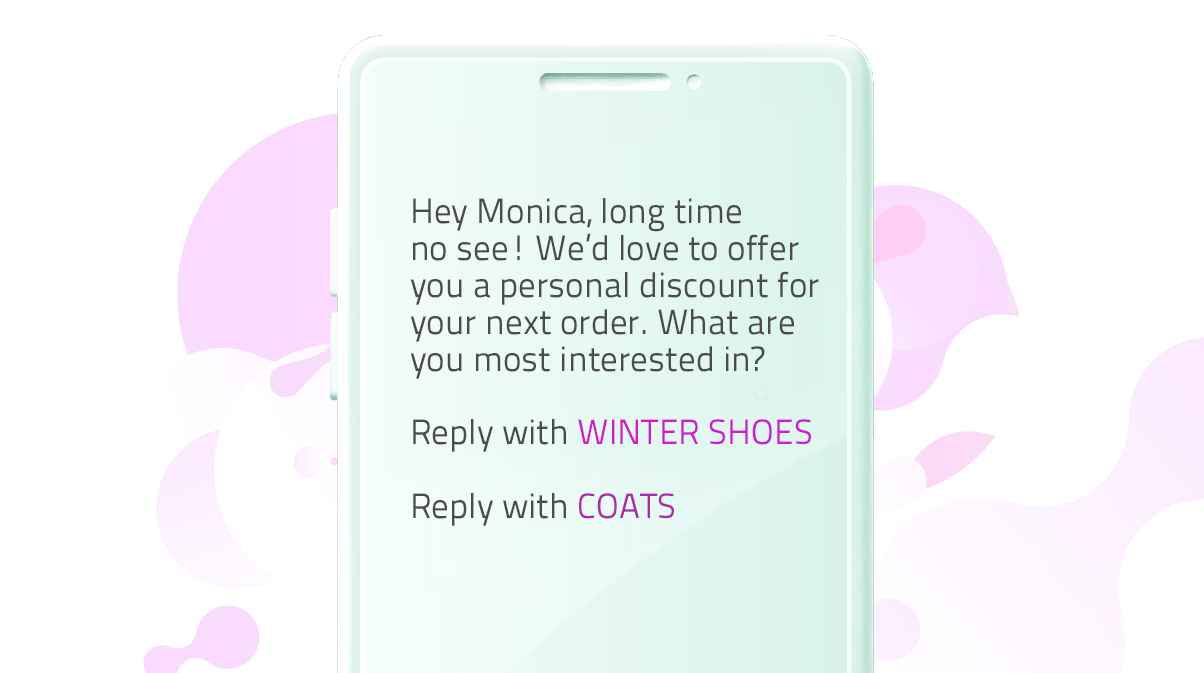 6. Review requests
Customer reviews and feedback are some of the driving forces behind purchase decisions so showcasing them on your website can help you improve your sales. What's more complicated is to collect them, but here's where SMS automation comes in handy, too.
An automatic SMS review request message can be sent to:
1. Review a specific product. Just give customers some time to try it out. For example, set up your product review requests to be sent a week after delivery. Note that some products don't require to wait that long (e. g. clothes), so decide the best timing depending on what you sell.
2. Receive feedback on your customer service. Send automated text messages after customer service interactions and ask customers how did they go.
3. Evaluate the delivery. This can help you improve and make sure that the delivery is not something that prevents shoppers from doing business with you.
There can be many other options that are up to you to decide, depending on your industry.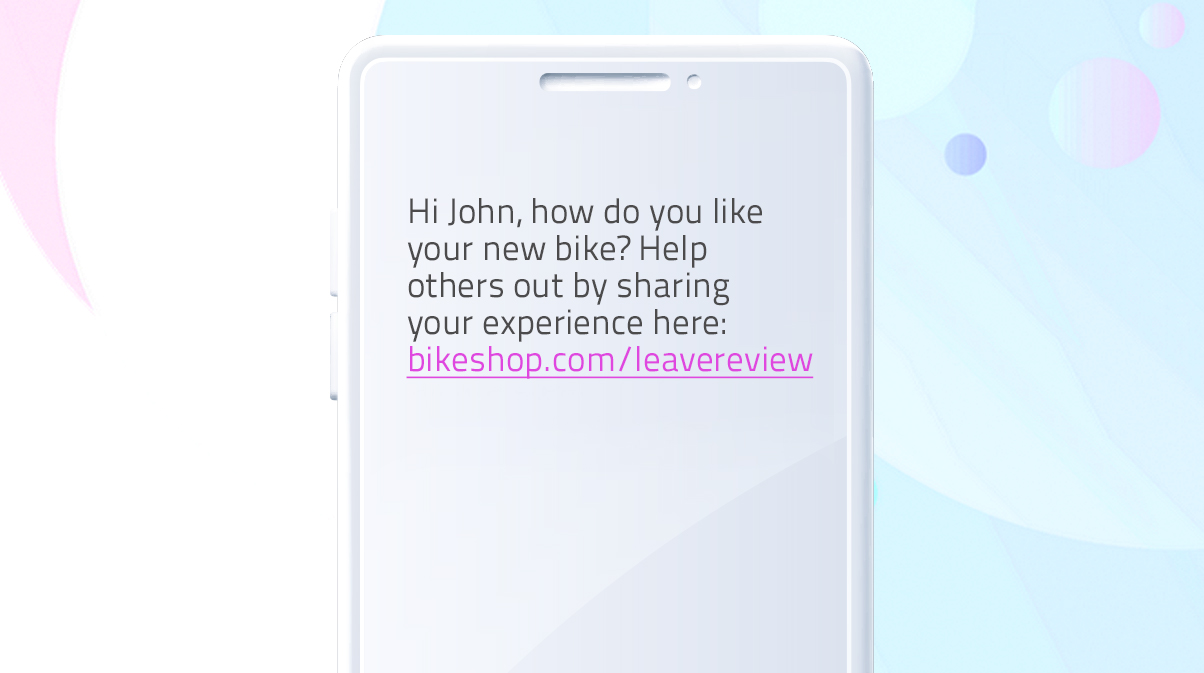 Create stronger bonds with customers using automated text messages
Automated text messages can help you create stronger bonds with your subscribers and gain their trust, thus putting you ahead of your competitors. With SMS automation, you can keep your users or customers engaged without even having to focus all your efforts on SMS marketing, and communicate in a timely and personal way that won't stay unnoticed.