Reaching customers has always been challenging, and it's definitely not getting any easier as you go. People now spend a lot of time on mobile devices, immersed in various channels, getting flooded with tons of different notifications, which means that passing the right message to your audience and making sure it sees it, or better still, even acts after reading it, is something that's not so easy to achieve.
However, there's one channel that is still underrated by the majority - SMS. According to MMA Global, 65% of brands still don't have a formal text marketing strategy even with the constantly rising use of smartphones. What does it mean? It means that they're missing out on the chance to benefit from a whopping 98% open rates.
Based on various reviews, we picked some of the most promising SMS marketing tools that have all you need for a quick start. In this article, you'll find out what is an SMS marketing app for Shopify and learn about some key features of universal solutions that we think are a must-try in 2021 for boosting business growth.
What are an SMS marketing app and software?
SMS marketing apps and software are tools that various companies use to reach out to their audience and engage with their customers. What distinguishes them from other marketing solutions is that SMS marketing tools are strictly focused on mobile and texting services for businesses, although there are so many possible uses of SMS messages that any organization, no matter the industry, can find it truly beneficial.
To put it simply, most of those apps and SMS marketing software could be divided into two bigger categories - global platforms that are more universal and offer a wider range of features for any organization, be it a business, a hospital, educational institution, etc., or apps, focused on e-commerce only.
Such apps are built for a specific e-commerce ecosystem, for instance, Shopify, and offer the most popular features to help increase online sales. It doesn't mean, though, that you can't use any of the general tools below for your Shopify store - you can, it's just not the main focus of such solutions.
Usually, such applications allow their users to easily create and manage text message campaigns, send SMS to many people at once with just a few clicks, set up automations, schedule messages, and many more.
Text messaging service providers offer affordable rates to do all this not only in a more time-efficient manner but also at an affordable cost. Before diving deeper into these two categories and unique benefits they can provide businesses, organizations, and consumers, let's make sure that text message marketing is worth considering at all.
Why use text message marketing?
Fast and direct. SMS as a channel is very straightforward and that's why it's so effective in these times of short attention span.
Great way to boost customer engagement. SMS can be used in many different ways – whether it's to inform customers about new products, send promotions, or extend the post-purchase experience with shipping updates, all of this makes you look better in the eyes of a customer.
Ideal for complementing other marketing campaigns. Not that many people have time and patience to go through a long text, so SMS might be used as a reminder to read your email newsletter or to let customers know what to expect from your next email marketing campaign.
Widely used. There are more than 5 billion people who can send and receive SMS worldwide, and such an audience is just too big to ignore.
Easy to use and time-efficient. There are many great SMS marketing tools to make the process even easier. You can automate most of the process and let those tools work for you.
6 SMS marketing tools to try in 2022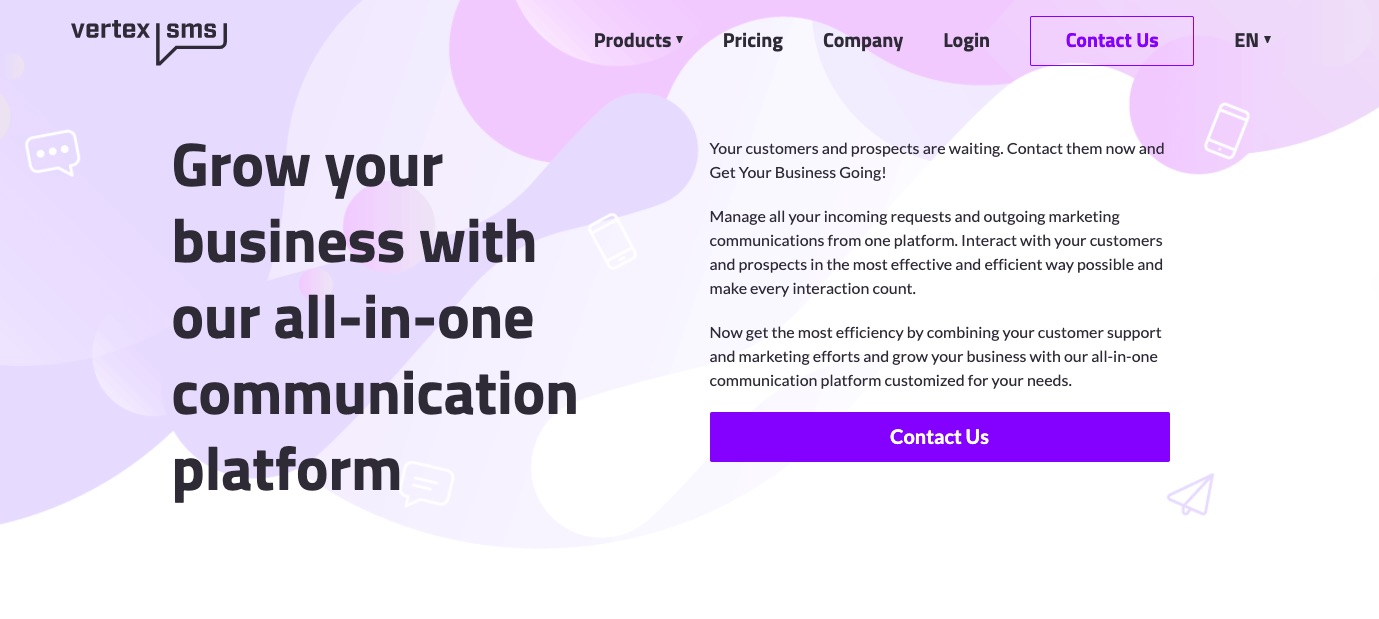 VertexSMS is a platform for various businesses and organizations, equipped with the most essential SMS marketing and communication tools. Yes, it may sound biased, but the decision to include our own platform in this list was based on the feedback and reviews that lots of the happy customers of VertexSMS share, and we do it proudly!
VertexSMS focuses on providing efficient communication solutions that allow to manage everything from a single dashboard, making every interaction with customers easier.
By using VertexSMS, you get to connect with your audience through a web browser, and send literally millions of SMS messages without even picking your phone. It also comes with such features as two-factor authentication to offer your clients the highest level of security, two-way communication that gives the ability to engage with them in a conversation, and, of course, bulk SMS.
So whatever your incentive to send a message is, VertexSMS might be beneficial for any business or organization that wants to stay in touch with their audience and provide an excellent customer experience.
Focus: Universal
Key features
All communications in one place
SMS marketing campaigns and scheduling
Bulk SMS
Two-way communication
Two-factor authentication
SMS Gateway
Detailed custom statistics
Reliable customer support
Pricing
VertexSMS offers a few flexible, usage-based payment models, which means that you won't have to pay for the tools that you don't use. For the Essential plan and the whole package of SMS marketing, email, and voice solutions VertexSMS offers two options – monthly payment of 29EUR/month, or annual subscription for 278,40 EUR (23.29EUR/month). It's important to note that with any of these plans you pay extra for the SMS messages you send, which is a common practice for the majority of such tools.
Custom plan comes with the same functionalities as Essential, plus includes many extra solutions, such as integration with popular platforms, custom interface of any tool, WhatsApp channel, custom automation flows, etc. Monthly payment for this plan is 79 EUR, or 63.20EUR/month with an annual subscription.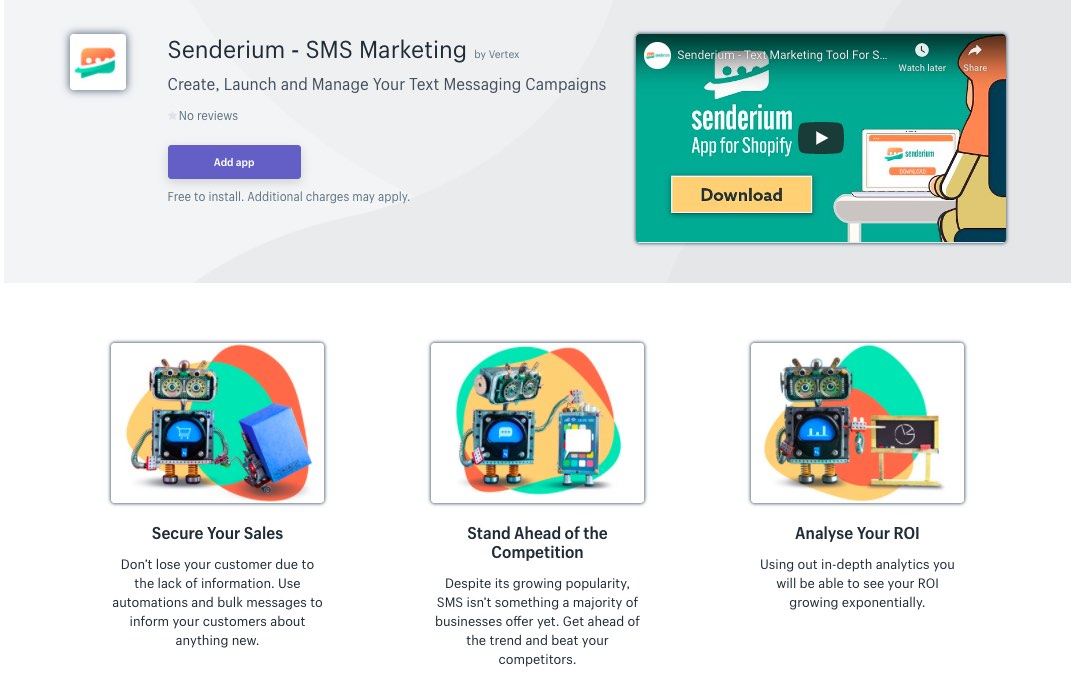 Compared to its competitors, Senderium is a relatively new yet highly promising SMS marketing app for those who run their stores on Shopify specifically, thus can offer the best, deeply analyzed solutions related to this platform. It has everything you need for a quick start and provides e-commerce companies with the most important tools for effortless communication with their prospects and customers.
Even though Senderium is pretty fresh, don't let this mislead you. This app is powerful already, yet it still has a lot of potential. It allows you to send promotions, discounts, updates, abandoned cart reminders, win back customers, reward new ones, schedule messages, spice up your campaigns with MMS, and measure your progress with a single, intuitive tool.
Senderium ensures that creating SMS marketing campaigns and keeping the audience in the loop is easy for everyone, no matter their background or skills. Not to mention a smooth integration with Shopify that takes only a few minutes to achieve.
Focus: E-commerce
Key features
SMS marketing campaigns
Bulk messages
Automations
MMS feature
SMS scheduling
Link shortener
In-depth analytics
Integration with Shopify
Easy to set up
User-friendly, intuitive design
Fast and reliable customer support
Pricing
Senderium is free to download, although you then have to choose between two different pricing options, "Pay as you go" and "Pro".
"Pay as you go" allows you to pay only for what you use (meaning that if you decide to send 1000 SMS messages, you'll only be charged for that), however, it comes with a few with limitations. Meanwhile, "Pro" is relatively cheap – only 9.99USD/month – and for that, you can enjoy all the best that Senderium has to offer.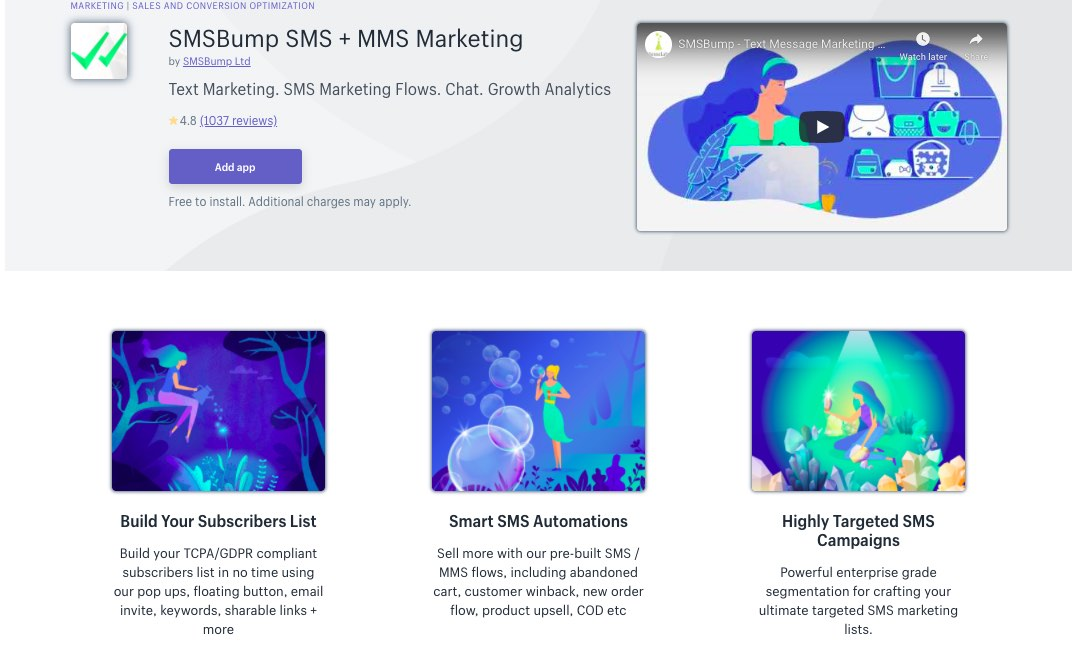 SMSBump is one of the better-known platforms for SMS marketing, and it has already won the hearts of many marketers. It's a nice, well-developed tool, built with a focus on e-commerce, particularly Shopify stores, and comes with many great features that can truly make your life a bit easier.
Besides seamless integration with such platforms as ReCart, Klaviyo, Privy, and more, SMSBump lets the business to create custom SMS and MMS flows (so you can run on autopilot), set automations, such as abandoned cart reminders and customer reactivation, run A/B testing, segment audience, keep track of opting-out clients, schedule campaigns, and measure their performance.
SMSBump also comes with many nice options for various customizations so you can experiment a bit and adjust everything to your needs.
Focus: E-commerce
Key features
SMS segmentation
Custom flows
A/B testing
Automations
Link shortener
Campaign scheduling
Integration with multiple platforms
Result tracking
Opt-out lists
Easy to get started
Pricing
As well as Senderium, SMSBump is free to download and allows you to access the basic features without any monthly fees (although you have to pay for every SMS you send). As for the paid plans, there are four of them – "Growth", that comes with all free features plus extra and costs 19USD/month, "Prime" (59 USD/month), "Powerhouse" (199USD/month), and "Enterprise" (custom pricing).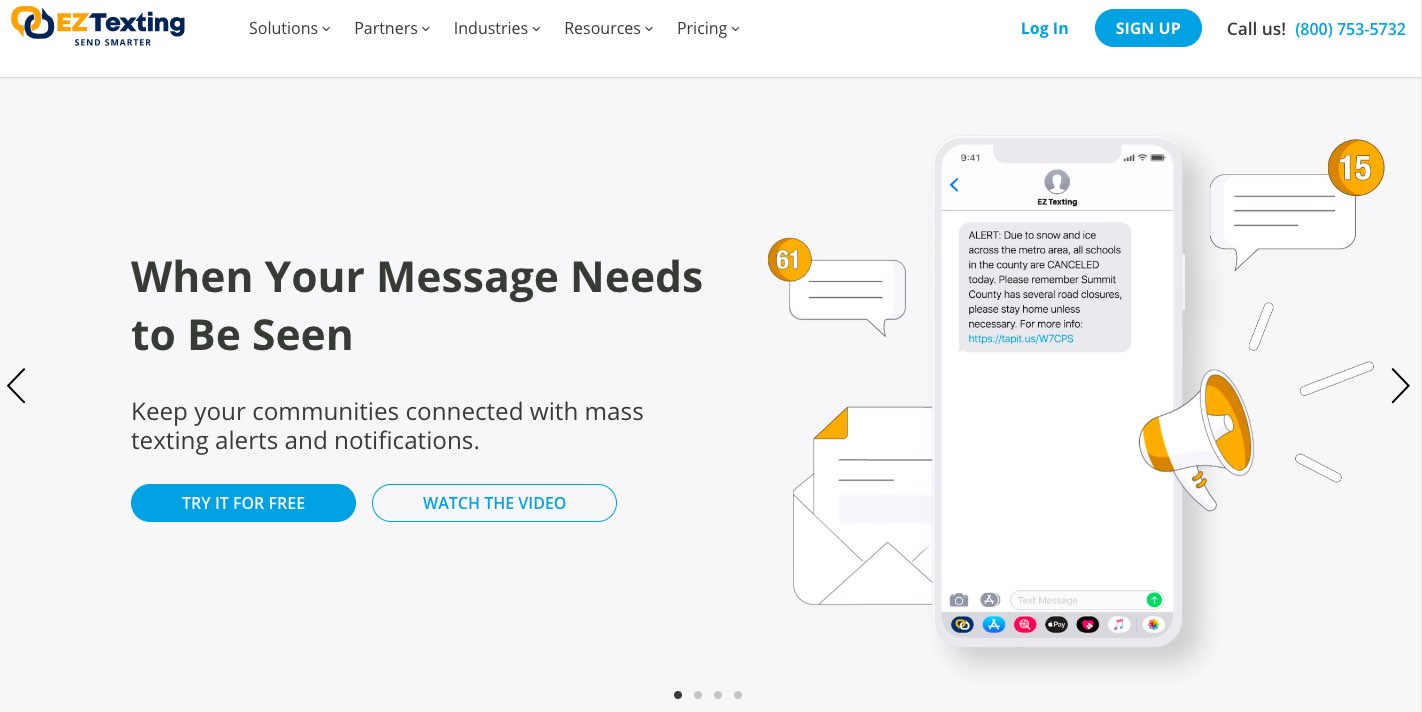 EZ Texting is one of those global SMS marketing platforms that we already mentioned above and offers a wide variety of different solutions for both businesses and various organizations. It can be integrated with some e-commerce platforms in a few extra steps, yet it's not the main focus of EZ Texting - although it might be considered as a disadvantage by Shopify store owners, everyone can still find it beneficial.
At a first glance, EZ Texting might even seem a little too basic, but it's just the appearance that hides 16 years of SMS marketing experience. This app actually provides companies with all the necessary tools to launch an effective SMS campaign without being too cluttered. It takes only 3 simple steps to send a mass text, your contacts can be easily accessible in one place, you can also set automations, send promotions, notice customers about sales, and follow the metrics to see how successful you are with your audience.
Focus: Universal
Key features
Group messaging and mass texting
Keywords and short codes
Toll-free numbers
Automations
Lead generation features
Link shortener
MMS and picture messaging
1:1 chat
Message templates
Performance tracking
Simple to set up and use
Pricing
Besides offering a free trial for everyone who wants to see if it's a good fit, EZ Texting also comes with Flexible and High Volume plans. The cheapest one starts at 19USD/month (annual plan) or 24USD/month. Essentials start at 29USD/month, Premium – 49USD/month, while Custom will cost you 299USD/month.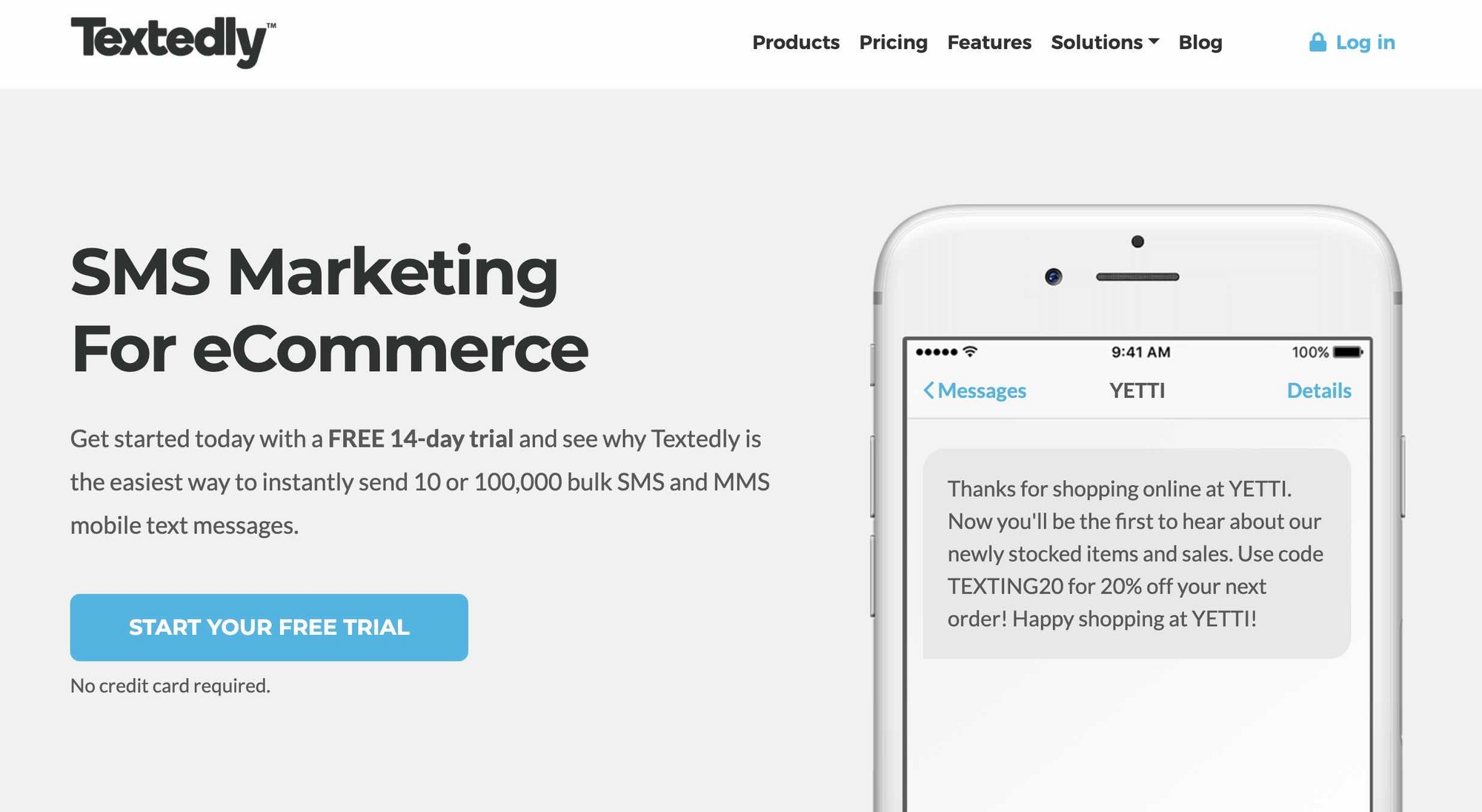 Textedly is another functional tool for various purposes that can help to reach your target audience using text messages. One of the advantages of Textedly is that it's easily manageable via mobile devices which gives some extra freedom if you're on the go.
Textedly allows longer than 160 messages which is one of the reasons it stands out from its competitors. With Textedly's well-thought-out features, businesses have a chance to engage their customers by sending them mass messages, setting automatic text replies, scheduling, or benefit from unlimited keywords. If you want to send links, keeping your message clear and brief is still possible with built-in link shrinking. And of course, being CTIA and mobile carrier compliant has never hurt anybody (it's a must!).
Focus: Universal
Key features
Mass texting
Message scheduling
Polls/voting
Text-to-win
Two-way messaging
MMS
Message personalization
Mobile coupons
Keywords and short codes
Contact management
Analytics
Pricing
Besides the free trial, Textedly offers 11 different plans for different needs. All plans have all the basic functions Textedly has to offer, yet every premium plan features something additional and unique for each of them. The cheapest one is 29USD/month, and you can save up to 20% off any of the premium ones by buying annual subscriptions.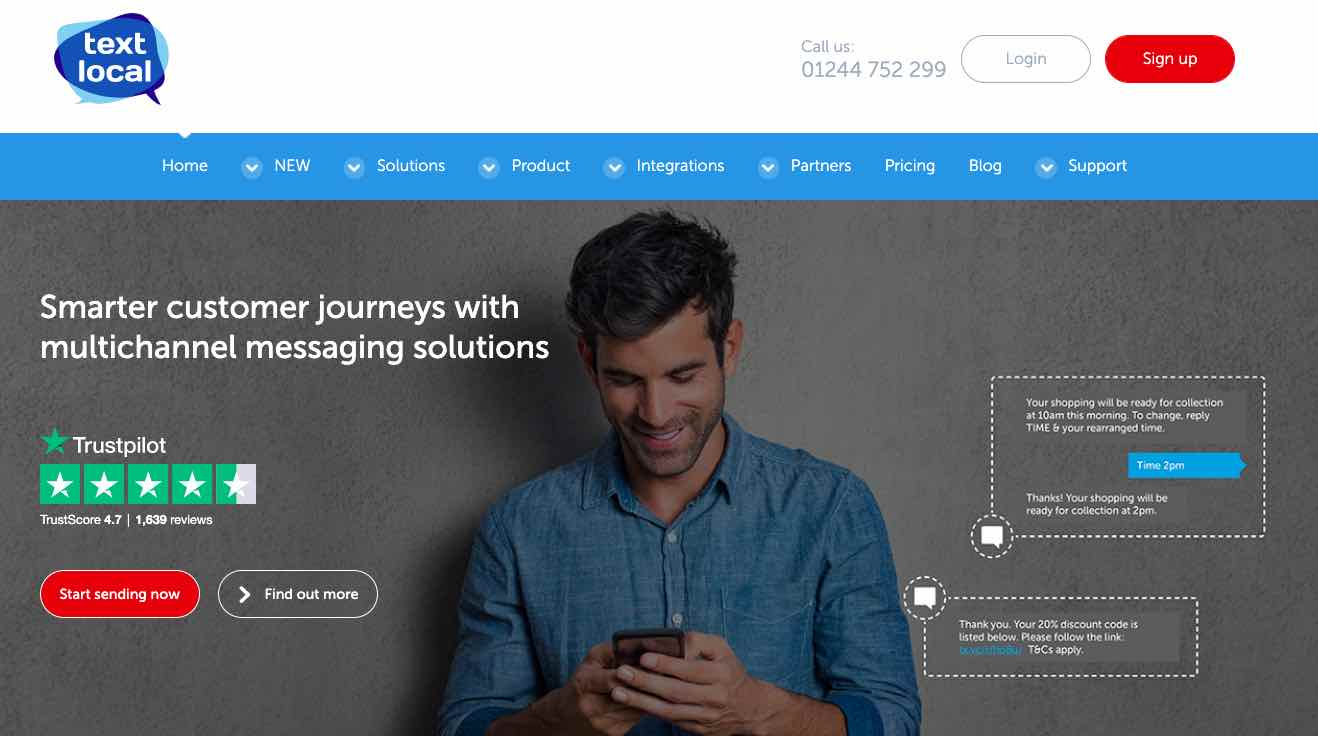 Textlocal is one of those tools that develop together with the trends, and that's why it offers not only "classic" SMS marketing solutions, but also takes it to another level with messaging apps, such as WhatsApp. Better still, Textedly offers customized solutions for businesses and organizations of all sizes, not to mention communities, while also allowing emergency SMS or even corporate bulk SMS. Since e-commerce is not the main focus of Textedly, managing your campaigns on Shopify might come with a few challenges.
Nevertheless, with Textedly businesses can send SMS messages online, take advantage of MMS, bulk SMS, keywords, short numbers (or long numbers), benefit from mobile ticketing, surveys, and free SMS API integration. It's highly flexible no matter what your needs are and can be a good choice for your first SMS marketing campaign.
Focus: Universal
Key features
Bulk SMS
Online SMS messages
Multichannel customer service
Mobile surveys
Mobile ticketing
MMS
Short/long numbers
Keywords
Messenger+
Mobile web pages
Pricing
Textlocal is not an exception and proposes a free trial for everyone interested in trying it out. However, the starting prices are not provided based on the fact that Textlocal offers flexible SMS rates and pricing models that are individually customized to every business.
Wrap up
No matter if you're running your business on Shopify or any other platform, finding the app for SMS marketing and getting started is definitely easier than trying to reach out to the customer manually. The only thing to keep in mind here is the differences between e-commerce-focused solutions and general SMS marketing tools for any organization, since it might influence the whole process a lot.
Apps for e-commerce are familiar with how the platforms operate, while integrating a universal tool might require some extra knowledge and resources. e.g coding. Anyway, there are many great, not industry-specific choices for businesses of all sizes that allow you to get the best out of SMS and use it for your convenience. Additional effort doesn't ever go unnoticed – and these SMS marketing apps will prove that to you.