It's a known fact that SMS messages can pave a way for building a long-lasting and friendly bond with customers. However, simple promotional messages are not always the way forward, although they are great for spreading the word about a sale or special offers.
To boost your customer experience, it's time to allow them to text you back as this is expected by nearly 70% of customers. By developing customer-first connections with 2-way personalized SMS chat, it's possible to keep users engaged and turn them into loyal customers.
But what does it take to implement 2-way-communication, how does it work, and is it worth the effort? Let's find out!
What is SMS chat?
Just as you are used to chatting with friends and family using an SMS chat app, business SMS chat is a similar interaction but between a brand and its customer.
This means that once a text is sent to a customer, they can reply, which is not the case with regular promotional messages that brands send to customers. For this, a dedicated number is assigned to the company that customers can text back at their convenience - even months later if they wish to do so.
An important thing to note is that for 2-way communication, it's not possible to set a brand name as the sender ID. Instead, it will be displayed as a number. So don't forget to mention who the message is from.
Below you will see an example of a common promotional message: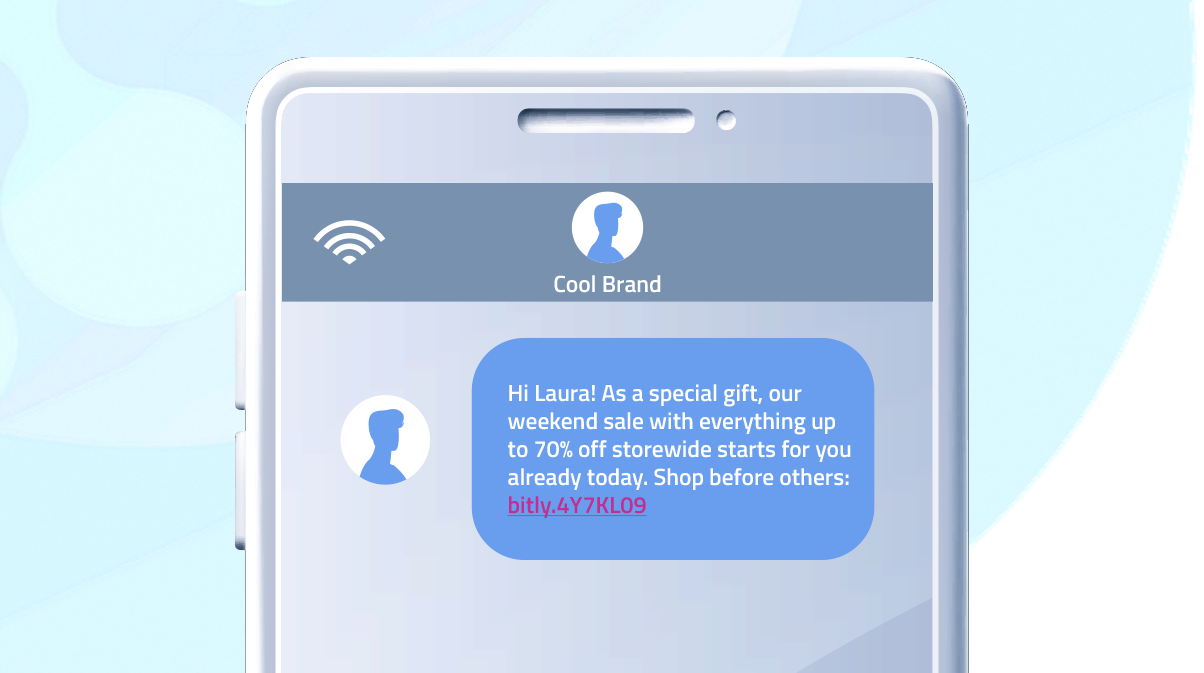 Now, here's the same message but with the possibility for interaction: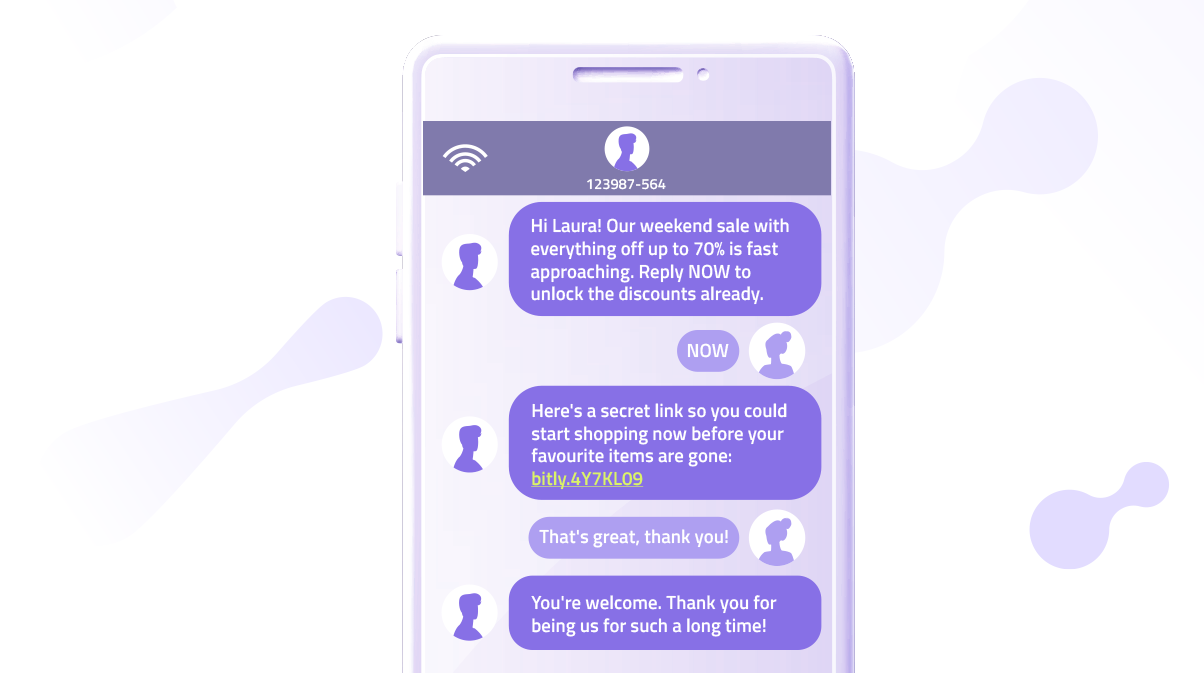 As you can see, two-way communication via SMS chat has a more human feel to it and businesses can easily gather valuable information that they can put to use in their future campaigns. Such interactions can work the best when combined with automation and real customer support agent participation.
Automated SMS chat
It's possible to set up automated and dynamic responses by selecting keywords that identify customer preferences. Doing so will help to save quite a bit of time from doing manual work and replying to every message individually.
Such automated messages can be set up for onboarding campaigns, sending reminders and confirmations, collecting feedback, etc. Think about what you wish to achieve by implementing the "if this, then that" strategy.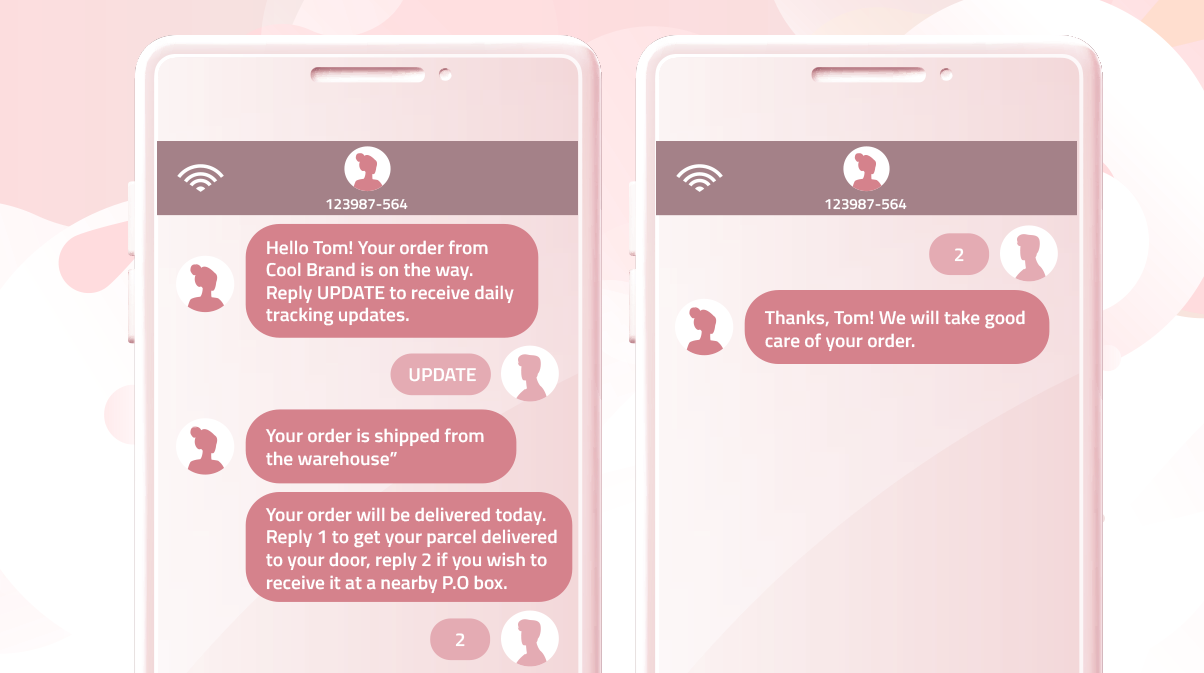 Live agents SMS chat
Even though automation is beneficial, 2-way communication wouldn't be so effective if it eliminated the option to get in touch with a real-life agent. Once a customer replies to a message, it is sent to the SMS gateway in the form of a ticket from where agents can easily reply to the SMS chat online.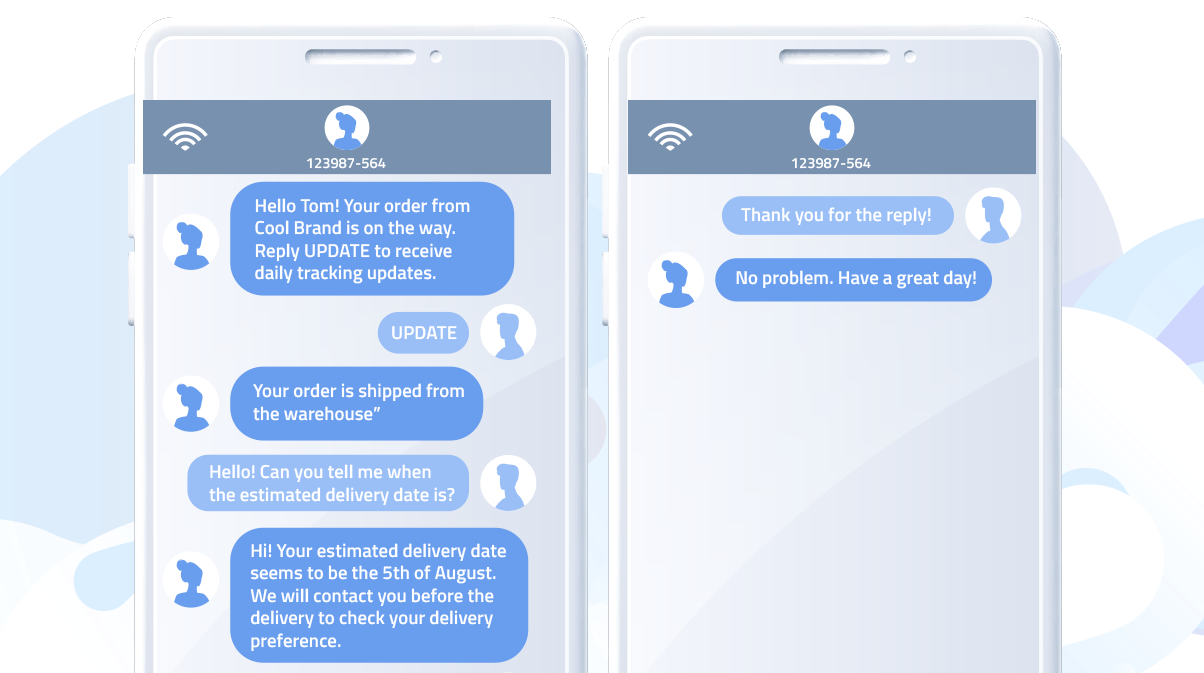 But isn't SMS messaging dead?
If you're wondering this, you are not alone. This burning question comes up often because of numerous applications that offer instant messaging, like WhatsApp and Viber.
But the answer is a simple "NO". There are many reasons why businesses should consider using an SMS service to communicate with their customers. The most popular of them being that the SMS open rate is as high as 98% and the engagement rate is 4.5x times as high as it is for email.
Still, how come SMS wins in the competition of SMS vs chat applications in the business world if people often choose to use other IM options instead?
Instant messaging apps are often preferred for personal communications because they are free. SMS messages cost depending on the plan you and the recipient are on. But while talking about business SMS chat, then yes, these messages cost too (often only a fraction of a cent), but running the campaigns via SMS does not need the carrier's approval.
On many IM chats, campaigns are much harder to get approved. And even if they are approved, people are less likely to open them. Therefore, it makes no sense to try to go through these challenges. SMS messages can be sent to customers without a hassle and wherever they are, even if they are not connected to the internet (but make sure to get their consent first).
Ideas to get started with 2-way communication
9 out of 10 customers prefer to communicate with businesses via SMS messages.
To ensure your brand can stand up to customer expectations, here are 4 ideas to get started with chatting to customers over text messages.
1. Reminders and confirmations
For small businesses, no-shows can be the reason for revenue loss of up to 27%. To avoid this and at the same time increase your customer experience, implement SMS chat for appointment reminders and provide an option to reschedule.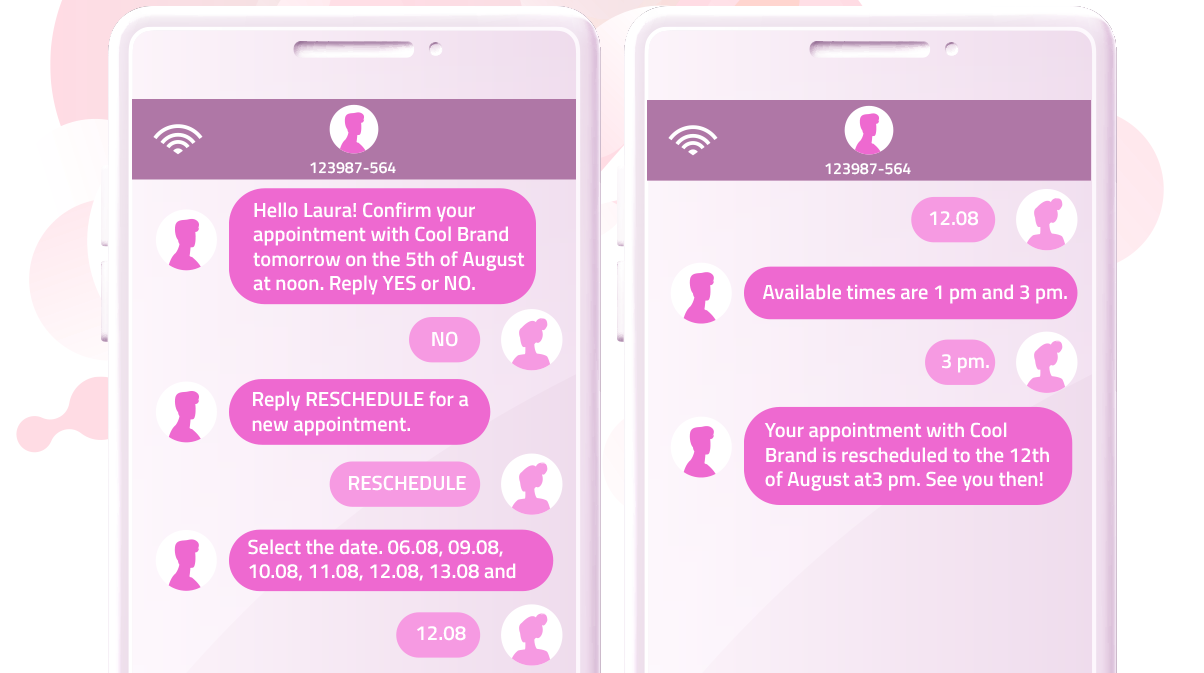 2. Collecting feedback
Actively listening to your customer feedback helps you build loyalty for the brand. Keep this in mind - loyal customers spend up to 67% more than new ones.
It's most beneficial to ask for feedback after an interaction with a customer, be it a delivered order or correspondence with your customer support.
3. Customer service
Think about what would be the most convenient way for you to look for support from a business. Would it be to send an email, an SMS message, chat online or call the business? Now, how about when you are on the go? In such a case, most of us would choose SMS if possible.
As it's possible to have an ongoing SMS chat with customers, it provides a clear overview of your customer's previous inquiry history and enables more seamless support. Such connected processes based on earlier interactions are very important to up to 70% of customers.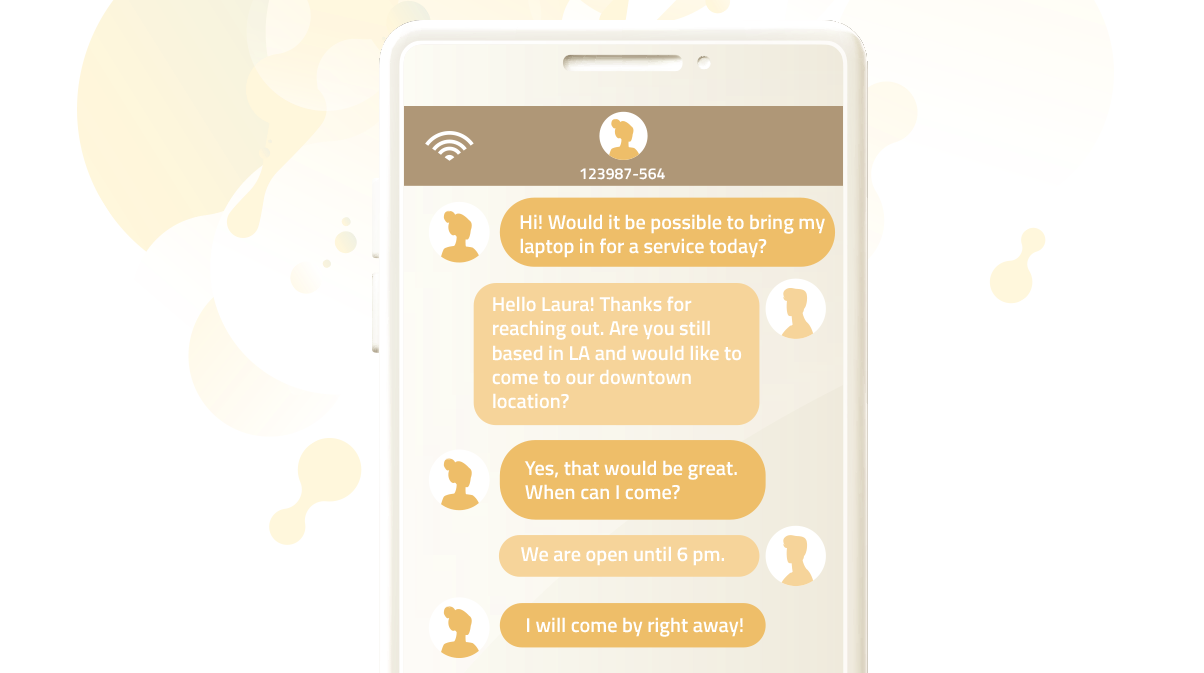 4. 2-way promotional message
79% of shoppers make orders on their mobile devices. 2-way promotional messages are great for driving customer engagement and encouraging them to make a purchase.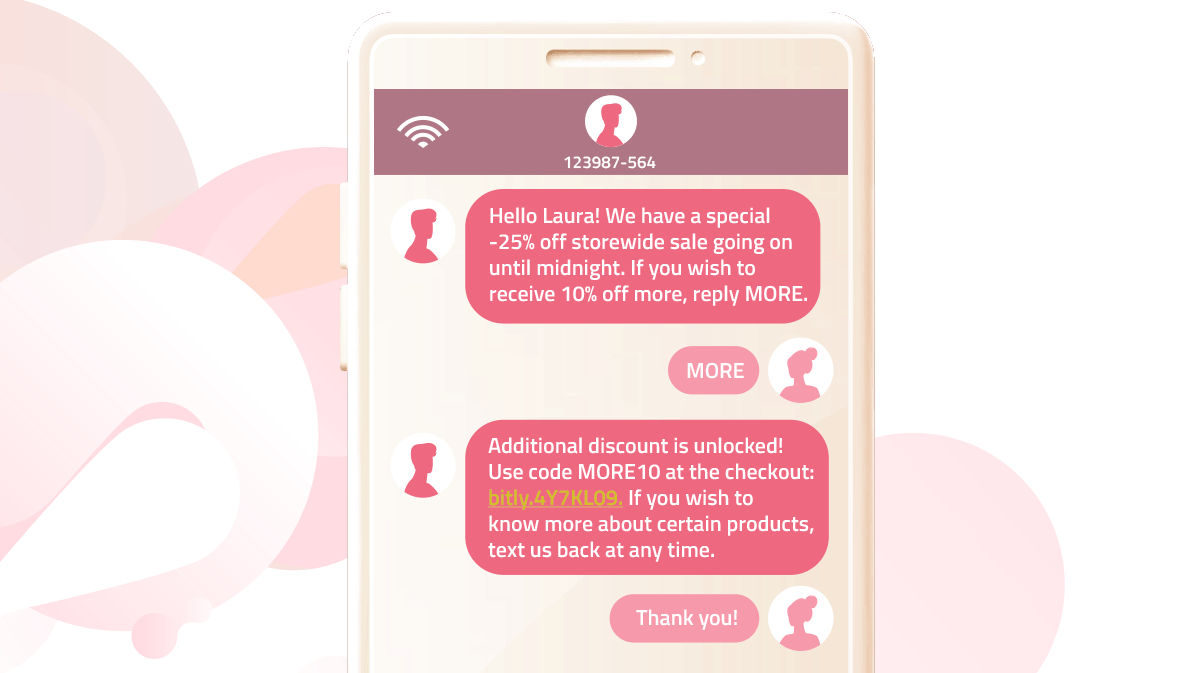 To sum up
Enabling 2-way communication via SMS chat can increase your brand's chances to stand out among the competition and enhance your customer experience as well as your team's productivity.
For the best results, combine automation with real-time customer support and make sure to let your customer service agents use the possibilities of the SMS gateway.