Even though many people now prefer instant messaging apps for personal interactions, SMS is not dead. Not only is it not dead, it's regaining its position in marketing communications.
While emails and social media are cluttered with information that's getting more and more difficult to deal with, text messages are still a direct way to reach out to customers and avoid all that marketing noise.
So if you're thinking of integrating SMS marketing into your overall marketing strategy, you're on the right path. Yet if you still have doubts about whether text marketing is right for your business or don't know where to start, keep reading this article.
We will go through the key benefits of SMS messages and find answers to the most common questions that might pop into your head before crafting your first SMS marketing campaign.
What is SMS Marketing?
SMS, or Short Message Service, is a channel used for exchanging plain text messages, primarily between different mobile devices. Using protocols that are shared across platforms, SMS can also be used for sending messages via the internet.
When brands start using SMS messages to connect with their customers, inform them about company updates, send promotions, alerts, and more, this is when this process is called SMS marketing.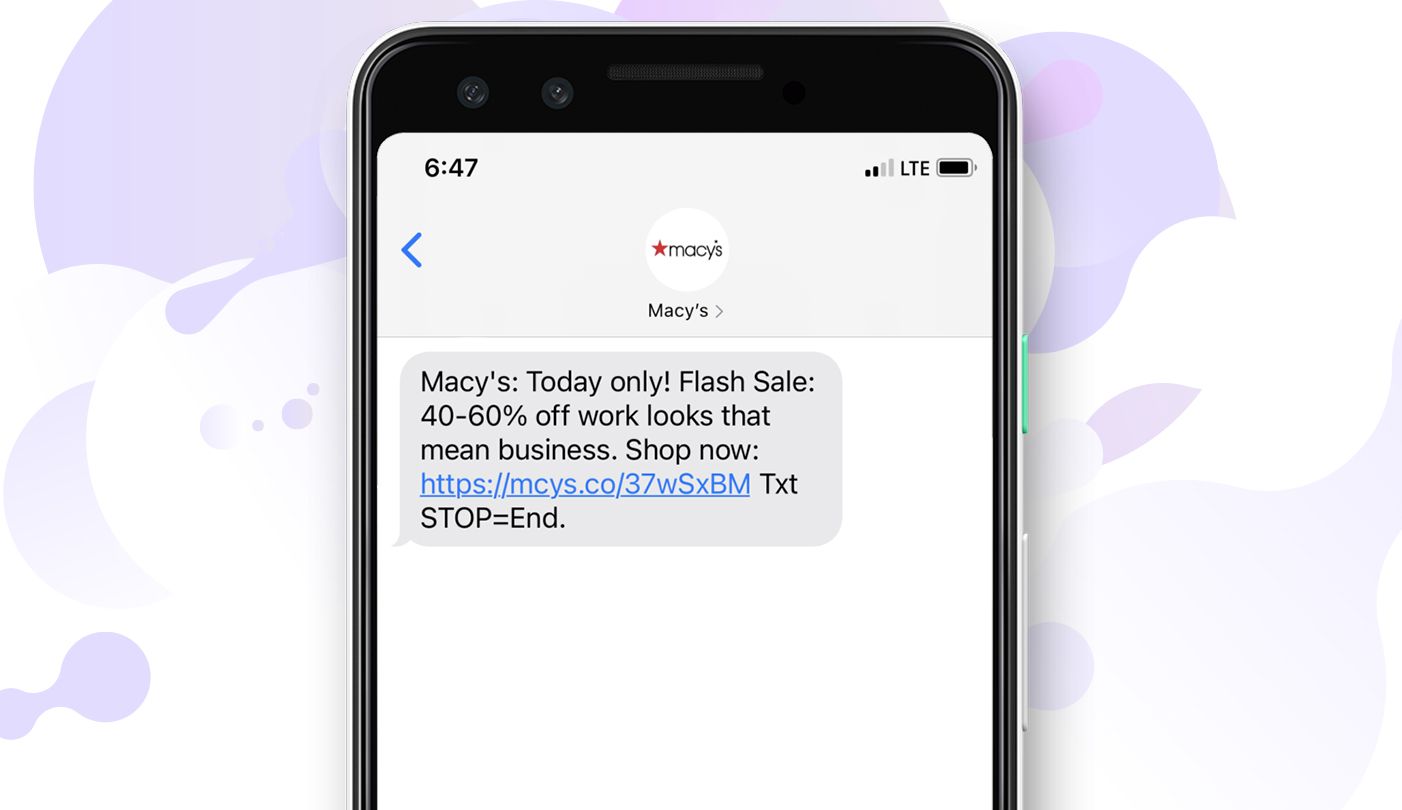 SMS marketing is strictly permission-based so it's important to understand SMS marketing compliance before sending your first SMS.
For instance, if you want to send messages to your customers in the US or Canada, you must comply with TCPA (Telephone Consumer Protection Act) and CTIA (Cellular Telecommunications Industry Association) regulations.
Choosing a reliable SMS provider can help you avoid getting in trouble for violating any of those laws, not to mention simplify the launch of your SMS campaigns and help measure the success of your efforts.
What about bulk SMS marketing?
SMS can be used in many different ways, including order, payment or shipping confirmations, cart abandonment reminders, welcome messages, and such. Those are generally triggered by a specific action a customer does and are sent to each user individually once it's completed.
Bulk SMS marketing, however, is used to reach out to many people at once. It is great for promotional SMS or updates, for instance, when you have to pass the same message on to hundreds of people. An example of this could be seasonal campaigns, like Christmas sale or Mother's Day deals and greetings.
Why opt for SMS marketing?
Besides being a highly straightforward and personal channel, SMS marketing also comes with some other benefits:
1. High open rates and responsiveness
SMS messages have one of the highest open rates of all the marketing channels which can be as high as 98%. Moreover, as people are used to checking their phones quite often during the day and usually keep them within arm's reach, text messages are responded to within 90 seconds on average. This opens an opportunity to engage in conversation almost right away.
2. SMS messages are easy to consume
Although the 160-character limit might sound like a disadvantage, that's actually one of the reasons why text messages are so effective. SMS doesn't require to fully immerse into the message to get the idea, can be easily scanned in a matter of seconds, and responded quickly.
3. Assured delivery
While email, messenger marketing, social media, or any other channel require the internet to reach the customer, SMS can be delivered to anyone, anywhere. Even if your subscribers are somewhere on the secluded island or camping in the forest, you can be sure your message will land in their pockets.
4. SMS works well with other channels
You don't have to choose between email or SMS marketing. Although each of them can work on their own, combining these two channels can do wonders.
For instance, you can send a text message to remind customers about an email newsletter that you've sent a few days ago. As SMS is opened far more often, you can use it to encourage subscribers to perform your intended action and enhance the performance of other marketing channels for better results.
5 best practices for effective SMS marketing
1. Do it the legal way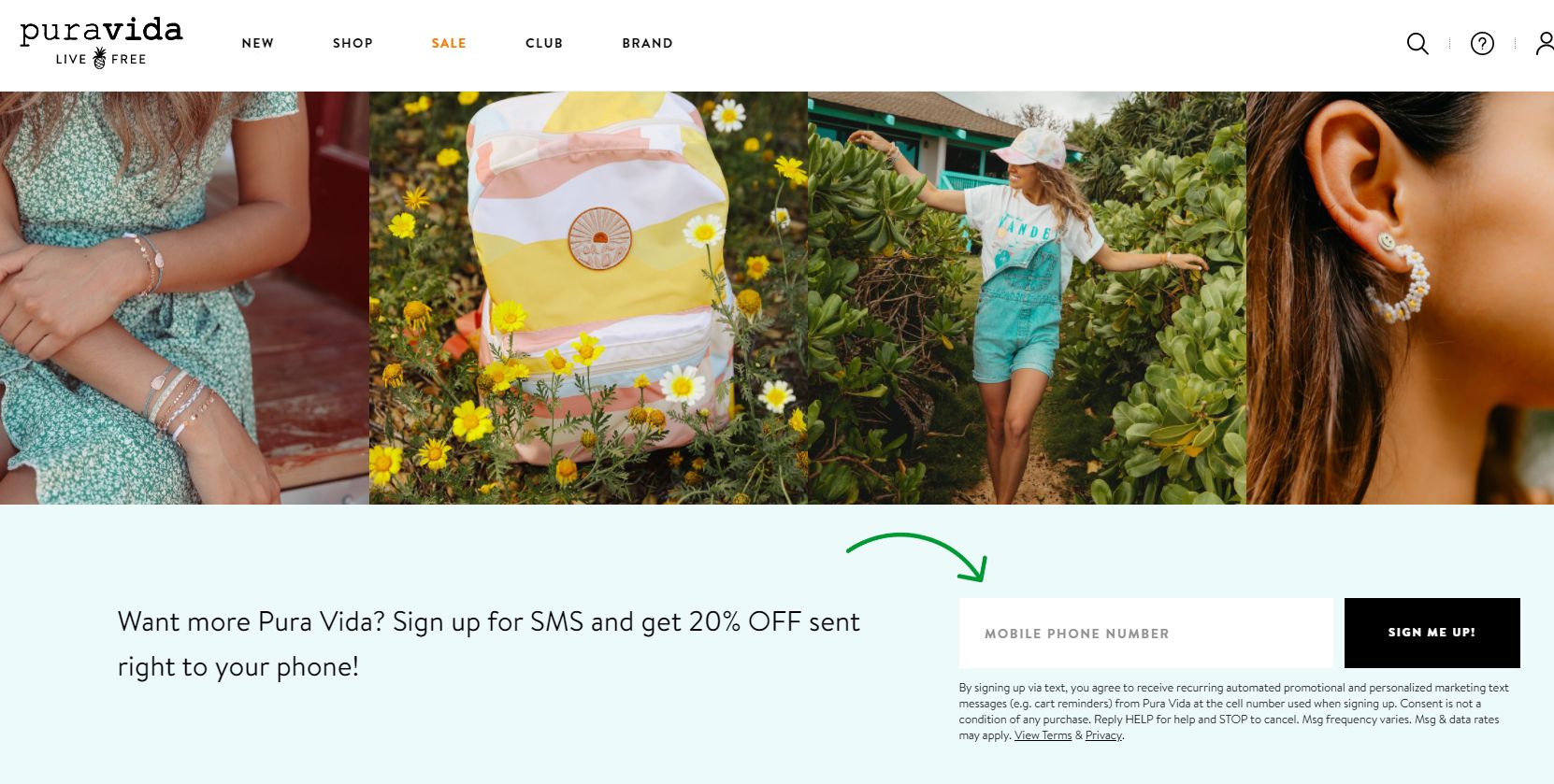 Getting your customer's consent is not just a matter of respect; as mentioned already, it's is required by law, too. So acquiring permission to send marketing messages is the key when first starting with SMS marketing.
Here are a few ways you can encourage your prospects and customers to opt-in:
Add a subscription form or a pop-up on your website to capture phone numbers from website visitors
Add opt-in messages to other marketing materials (e.g., email newsletters or social media)
Offer an incentive in exchange for a phone number
Run a contest or giveaway via SMS
Add a sign-up option at the checkout
This might sound like a turn-off, but getting permission actually means that you're connecting with people who actually want to hear from you. And in case they don't anymore, always respect their choice and provide an option to opt-out.
2. Provide value with every message
Your customer's consent to receive your marketing messages means they trust you, so make sure you treat it right. Or in other words, before sending any message, ask yourself first if this is something you, as a consumer, wouldn't mind getting from the brand you like.
Besides, rapidly changing consumer habits made them much pickier. Keep in mind that your subscribers now expect more.
For this, not just always try to sell. Not only this can come out as aggressive after a while but might be boring as well. There are so many different ways you can put SMS messages to use, including sharing tips, suggesting to read your latest blog posts, run contests, etc. You can even perform surveys to learn more about your clients and what they'd like to hear from you.
Different incentives and messages will ensure that you're keeping your subscribers interested and engaged, thus reducing the chances of increased unsubscribe rates.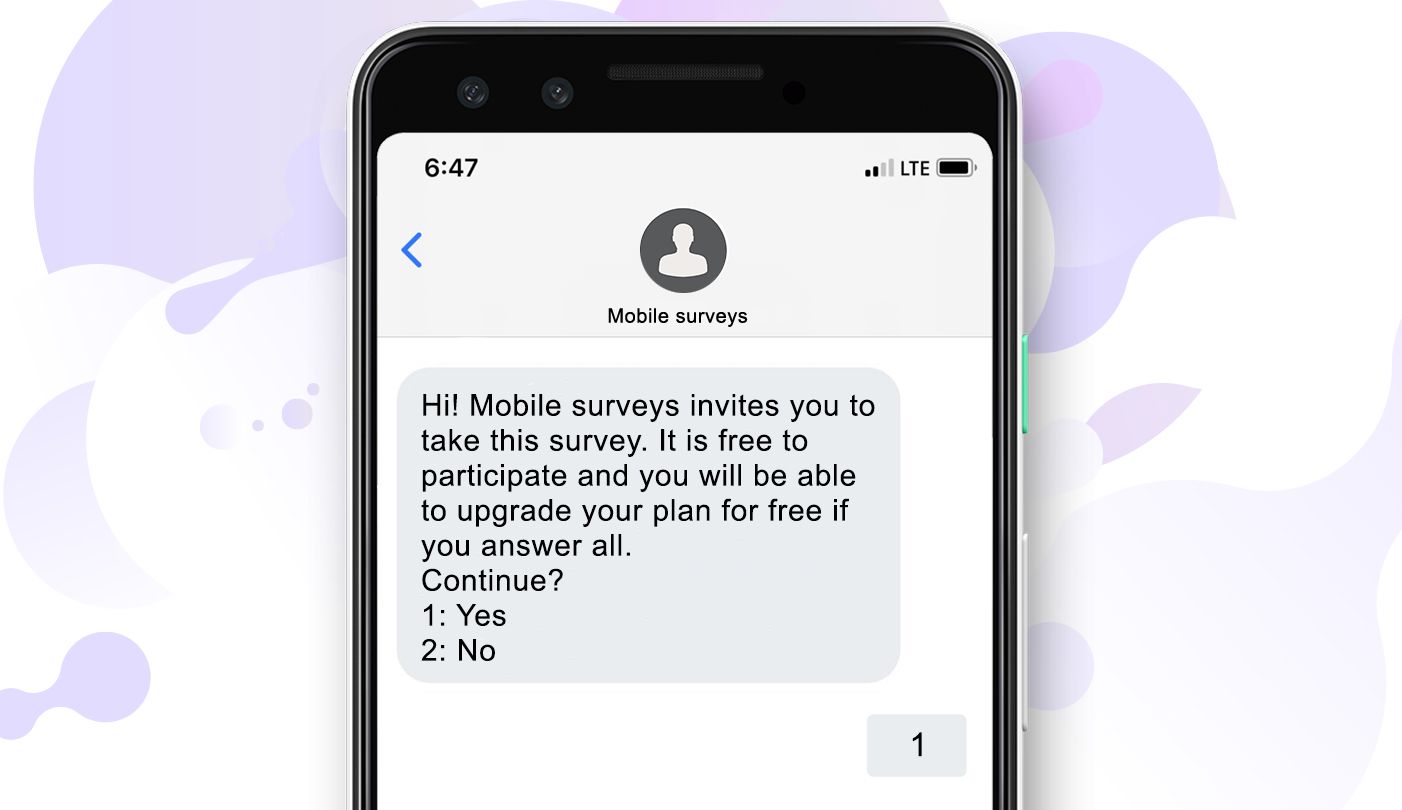 3. Choose the right timing
The right timing is actually crucial when it comes to SMS marketing. Think about it – you wouldn't want to be distracted by promotional messages during family dinner, right? Neither would you customers.
Before scheduling a campaign, think about:
1. The type of message you want to send. Is it a limited-time offer or product update? Abandoned cart or appointment reminder? By defining the type of message you're planning to send, you can define the time it has to be sent. For instance, you can send appointment reminders 24h in advance while limited-time offers can only be valid for a few hours.
2. The schedule of your audience. You will never be able to adapt your messages to everyone, but there are obvious things to keep in mind. Don't bug people during the night, early mornings, or late evenings. Consider different time zones, too, if your customers are international.
4. Personalize
SMS is already an intimate communication channel, used mostly for personal interactions. Keep this in mind and use it to your advantage – talk to your subscribers like a human rather than just send robotic messages.
In this case, what is personalization? Addressing customers by their names? Providing deals based on their location? Sending birthday wishes once a year?
All of those are great practices that many businesses already follow. Although don't forget to learn a little more about your subscribers than just that – learn their behavior on your site, find out about their likes and dislikes, and try to tailor your messages to meet their needs.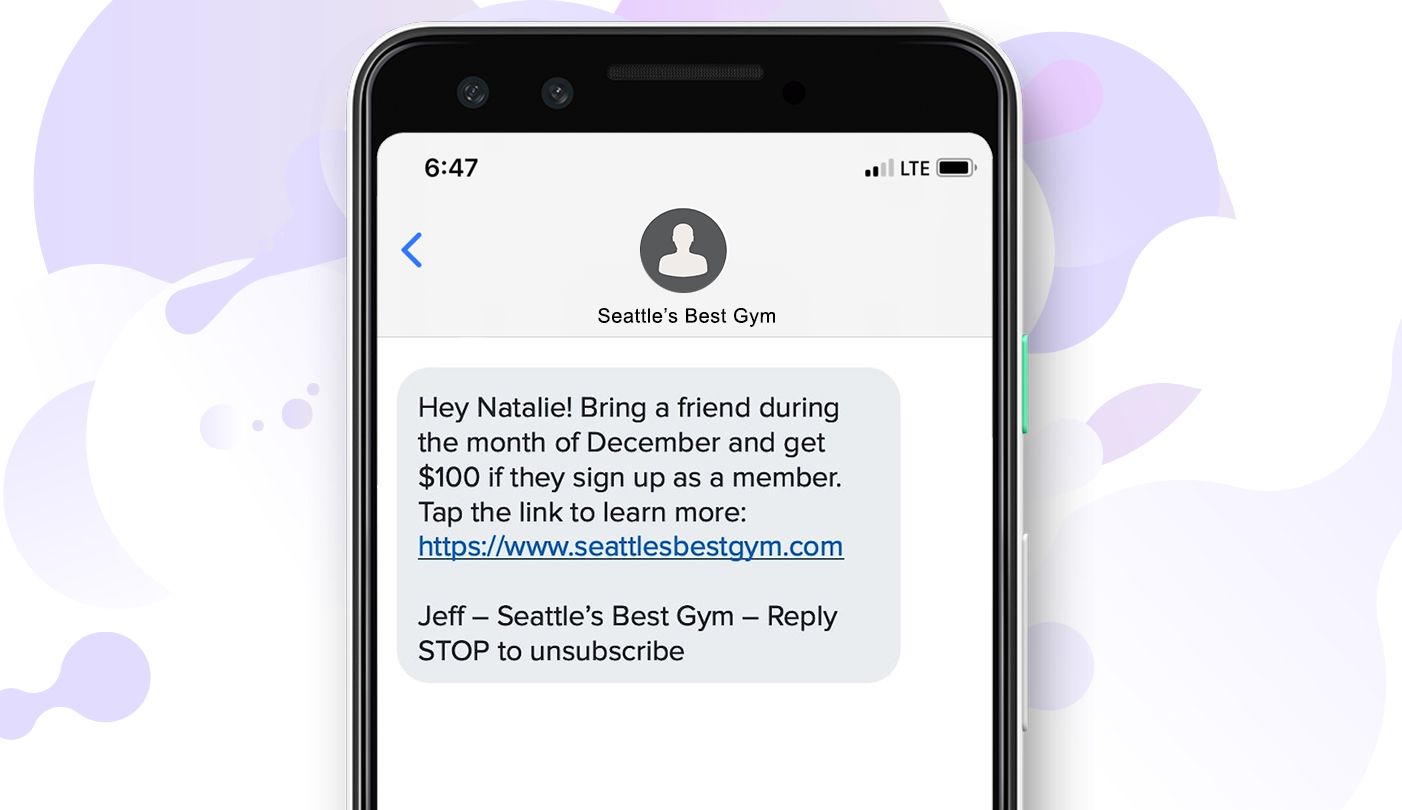 5. Use an SMS marketing tool
To send bulk messages to your customers, you have to use some kind of SMS marketing tool. Without an SMS gateway, not only the process of sending text messages to your customers would be simply unmanageable, but you'd most definitely fail to comply with SMS marketing regulations.
Besides, there are many other benefits of working with SMS marketing providers. Depending on the service, SMS marketing tools usually allow you to:
Easily create and launch SMS marketing campaigns
Automate text messages based on different criteria
Schedule your campaigns
Segment your audience
Measure the performance of your SMS marketing efforts, and more.
SMS marketing FAQS
How often should I text my customers?
There's no universal answer to this question – you have to find your sweet spot by experimenting and tracking the results. However, excess of any kind will never lead to anything great, yet the same goes for texting your customers once in a blue moon.
Therefore, it is recommended to reach out to your customers using SMS 4-5 times per month (or 1-2 times per week).
Once a customer opts in for your marketing messages, make sure to clearly communicate how often s/he can expect to hear from you. In this case, there will be no surprises, and you'll reduce the chances of your text messages being perceived as spam.
How can I intrigue the customer with a text message?
The key rule to remember here is to keep your messages simple. However, it doesn't mean boring – be creative and offer different incentives to keep your customers engaged.
So instead of sending promotional texts only, try:
Share relevant weekly/monthly tips
Send links to valuable content (e. g. your blog posts, videos)
Collect feedback, perform surveys
Run contests, etc.
PRO TIP: Urgency plays an important role in marketing, and SMS marketing is not an exception. When crafting your message, use words like "Now", "Today only", "Last chance" and similar to encourage your subscribers to act fast.
Is text messaging right for my business?
Although text messages can reach wide demographics, there are still some factors to consider before launching your first campaign.
One of the main aspects is to get to know your audience. How old are they? What devices do they use the most? How do they communicate? Will this really be the best way to reach them?
For instance, the elderly are far less interested in texting compared to younger users. Trying to promote your brand via SMS for an older audience may sometimes lead to a lot of people simply ignoring your text messages (of course, it highly depends on the business you're in so this should not be followed blindly).
Is SMS marketing expensive?
SMS marketing is actually one of the most cost-efficient marketing methods. It doesn't require much time or human resources, and the cost of a message can vary between only a few cents (depending on the provider). Therefore, it's highly effective so the ROI you receive from SMS marketing makes it worth a try.
Connect with your customers using text messages
In the ever-so-complicated world of business and marketing, bulk SMS messages have simplified the phenomenon to a very effective and affordable degree. At a click of a button, you can reach thousands of consumers on a personal level and always gain something at each message sent, recognition being the very first of it.
Nonetheless, market research is key. A business still has to run a thorough analysis of the market they are operating at. An SMS marketing campaign needs to have direction, precision, and relevance. As long as a business abides by those guidelines, SMS marketing is guaranteed to prove its worth.