October to January is indeed a special time for everyone in e-commerce. Halloween, Black Friday and Cyber Monday sales, followed by Thanksgiving, Christmas and New Year… This period tends to be the busiest of the year, and the pandemic has only made it… better?
Despite the economic and health challenges, online and other non-stores sales in 2020 were up 23.9% compared to the previous year, reaching $209 billion, according to NRF. This year, these numbers are projected to grow 11% to 15%, resulting in between $210 billion and $218 billion in e-commerce holiday sales.
Therefore, to grab the bigger piece of the pie, online business owners should get serious about their e-commerce holiday planning, and the best time to do it is… now. In this article, you will find some tips on how to get the best out of the most wonderful time of the year and spice up your holiday e-commerce strategy to boost your sales.
3 key holiday shopping trends 2021
Although people are already more confident about shopping in physical stores this year, we already know that online shopping will still remain a convenient and safe way to prepare for upcoming festivities and buy gifts for their loved ones.
Here are some other 2021 holiday shopping season predictions that you should keep in mind when crafting your strategy this year.
Holiday shopping will start early
Many shoppers are already aware of supply chain challenges and shipping delays resulted by the pandemic last year. Therefore, e-commerce holiday shopping is expected to start earlier in 2021 as consumers will aim to beat the crowds and complete their holiday gift lists on time.
In fact, 21% of shoppers in EMEA region (Europe, the Middle East, and Africa) have started their holiday shopping as early as June, the latest Google and Ipsos research has found. June!
BOPIS remains a popular choice among customers
Buy-Online-Pickup-In-Store, also known as BOPIS, will remain an important part of customer experience, and that's what will also keep brick-and-mortar stores vital during this holiday shopping season.
Click and collect sales in the US amounted to $58.52 billion in 2020, and this figure is predicted to grow to $74.24 billion by the end of 2022.
This clearly indicates the continuously changing consumer behavior and the beginning of the new hybrid reality that is essential for the seamless shopping experience.
Mobile purchases are picking up the pace
M-commerce is steadily growing, and the upcoming holiday season is expected to prove how big it is getting. Overall, 40% of consumers plan to use their mobile devices to purchase gifts this year, according to InMobi's research. To be more specific, 50% of Gen Zers (18-24 years old) and 55% of 35–44-year-olds are planning to shop on their smartphones and tablets.
PRO TIP: Having this in mind, it's smart to incorporate SMS marketing into your holiday marketing strategy as a way to both sell more with promotional messages or connect with customers and strengthen relationships using post-purchase SMS.
7 tips to win the e-commerce holidays 2021
1. Organize your holiday calendar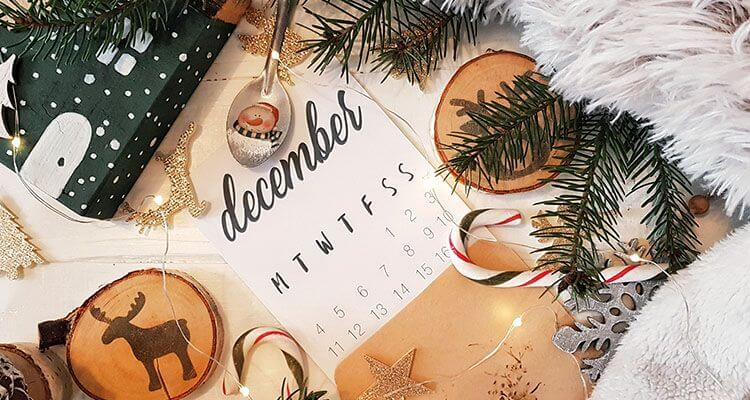 Sometimes it might feel like almost everything you do in the second half of the year is somehow focused on Black Friday/Cyber Monday and Christmas. And while it's mostly true, did you know that there are some other fun celebrations you can add to your holiday calendar? For instance, a National Chocolate Covered Anything Day on December 16th or… a National Sock Day?
The good thing about these lesser-known celebrations is that you can not only give your customers a reason to spend a bit extra on your store, but also engage them in fun activities, such as contests on social media. Besides, you get to reach different audiences during each of them, and possibly grow your customer base.
So, get ready to target sock wearers on December 4th, ask your customers to share their ugliest sweaters on Ugly Sweater Day (18th), give a painful reminder about not taking care of the gift list 10 days before Christmas (Green Monday, December 14th), and then give a solution by celebrating the Free Shipping Day on 15th.
Planning this all ahead should help you maintain the holiday buzz and encourage people to keep talking about your products.
2. Decorate your website to spread some holiday cheer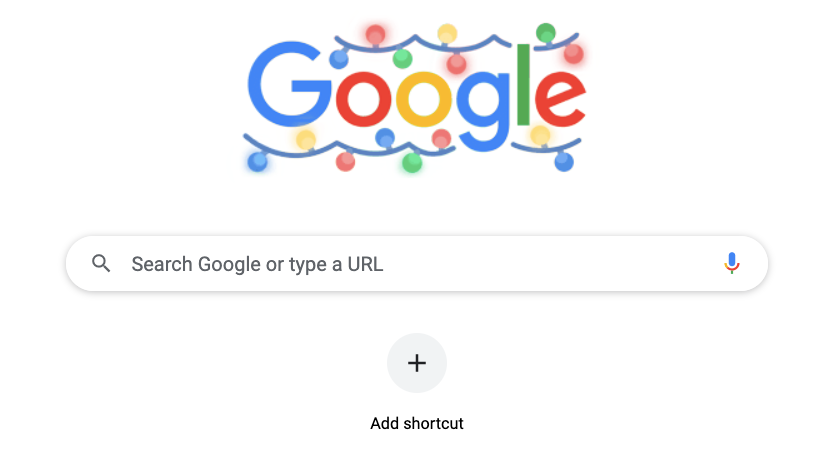 Make sure that people feel the same vibe entering your online shop as if they would if they were shopping in-store. For this, you can add a few little details to your website to spread the holiday cheer - this will keep them more positive and make your site more alive.
Here are some ideas on how you can achieve it (although be careful not to overdo it):
Welcome your visitors with Season's Greetings
Give a Christmassy look to your logo
Use classic Christmas color combinations – green, red, and white
Add Christmas elements and symbols
Change the background of your store
Create Christmas banners
Use holiday props in your product photos
3. Prepare a relevant pop-up to grow your subscribers' list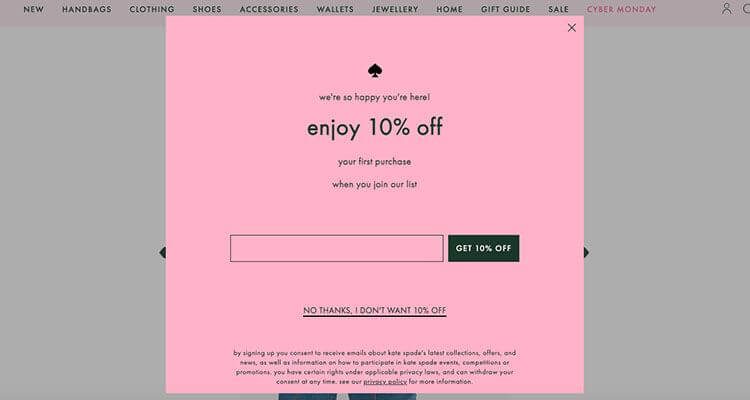 People don't necessarily buy something the first time they enter your online shop, but you'd like them to come back sometime later, wouldn't you?
That's why it can be useful to add a pop-up form to your store and grow the subscriber list for potential sales both during the holiday season and in the future.
There are a few main reasons why pop-ups can actually help boost conversions:
They are seen by 100% of the site visitors.
They appear when the visitors are still engaged with your content.
They can offer something valuable, for instance, a discount.
If someone has already decided to check out your store, they likely have an intent to purchase, too. Showing them a pop-up that gives 10% in exchange for their email address is what delivers them real value, boosting the chances that they will actually decide to benefit from it.
4. Plan out your emails and SMS campaigns
Instead of just waiting for people to magically come to you, give them a reason to do it by crafting engaging emails and SMS marketing campaigns. Carefully planned, personalized content can help them feel more connected to your brand and boost sales, without even focusing on them directly.
For instance, use your email subscriber list to send them holiday gift guides, run contests, share your plans for the upcoming year, share Christmas tips and ideas, announce Christmas sales, send personalized offers to loyal customers, etc. As for SMS, it might sound pretty old-school, but it's still highly underrated despite its high open rates (98%!). The thing is that SMS can not only be easily leveraged to complement your email marketing strategy (e.g. to encourage people to open the newsletter they haven't read), but you can also use it in so many different ways to promote your products or services.
5. Engage customers and sell on social media platforms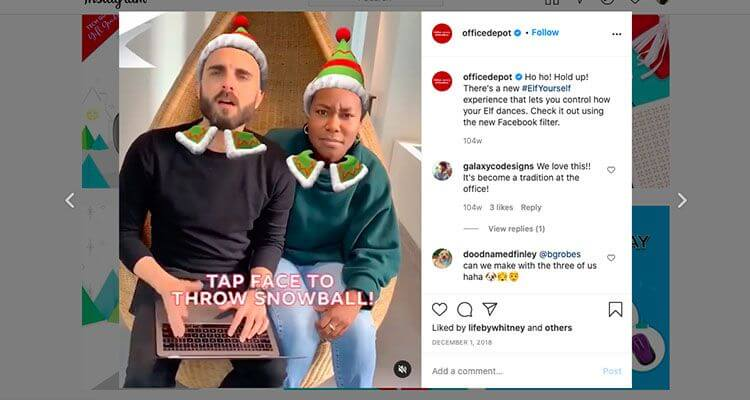 Social media is the digital environment where many people spend most of their time "being" with their friends and families. Naturally, it's also the place where the business has to be to build a strong online presence this holiday season.
In 2021, 28% of shoppers plan to use social media to discover or buy products, according to Statista. Therefore, social media advertising isn't the only choice to promote your products or services. It's also important to simplify purchases by enabling social media shopping on your channels so that the visitors can easily place their orders where they find them.
Moreover, you can use social media to help your other channels perform better. For example, you can add social sharing buttons to your product pages or email newsletters to allow your followers and subscribers to share your message with their friends.
Christmas hashtags can also make your promotional campaigns more visible and recognizable. Check out what's trending, create branded hashtags specifically for your content to spread the word around.
And, of course, already mentioned contests. Is there a better place than social media to interact with potential customers in a less binding way? Let them share pictures, comment, write stories, or invite them to participate in giveaways to stay on their radar.
6. Prepare your Christmas promotion ideas
Create gift guides
Since many people are planning their gifts in advance, take the opportunity to include your store in their lists and help them find what they're looking for.
Thoughtfully organized gift guides are a great way to do it. Consider the recipient (men, women, mothers, fathers, kids, etc.), interests (cyclists, craft lovers, hikers, etc.), age, price, or anything else. Take an example of Macy's that created a Gift Finder that allows filtering your options by choosing the parameters that fit your needs.
Prepare gift bundles
Bundle deals offer several products for a lower price than would be paid when buying them separately. It saves money for the customer and can help companies increase unit sales volume, profit margins, or even get more exposure.
Cross-sell
Cross-selling is an attempt to sell products that are related to the one a customer is buying, for example, offering a case with a new laptop. It means that the customers can get more value from their purchases, and businesses can boost their revenue and improve customer experience.
Offer gift cards
There are always those who would rather let their loved ones buy their presents themselves, just to not waste money on something they don't need. Offering gift cards should be one of the options for a Christmas present in your store to give customers more freedom.
Work with charities
A big part of the holiday season is the warm emotion that comes with it, and the willingness to do something good. Team up with some charities and allow your customers to help someone while shopping in your store.
Provide several delivery options
As the holiday online shopping season is expected to be even bigger this year, make sure your customers get their packages on time. Offering different delivery and pickup options can not only make it more convenient for them but also take some burden off your shoulders, reducing customer support issues.
Organize a post-Christmas sale
The period between Christmas and New Year usually feels blurry, yet you can still use it to sell a bit more. It's a great time to organize some flash sales since most of the people are still relaxed, happy, and likely spending lots of time scrolling their phones.
7. Ensure a great user experience
There are many things to consider when it comes to user experience, from your store's loading time to a smooth checkout process.
The thing is, 57% of site visitors simply leave it if it doesn't load in 3 seconds, meaning that the speed of your website should become one of your top priorities.
Also, more and more purchases are happening via smartphones which is why it's a necessity to make your store mobile-friendly. Not to mention easy navigation overall, no matter the device.
Finally, if the visitor reaches the checkout, it doesn't mean that they will complete the purchase. Many cart abandonments happen at this stage due to complicated or poor experiences. This can be done by simplifying forms, giving the option to auto-fill, offering multiple payment options, and, of course, guest checkout.
Wrapping up
New season, new challenges, huh? Fortunately, you can get ready for anything if you plan carefully in advance.
To achieve your e-commerce holiday strategy goals in 2021, you will have to be creative, put in some additional effort and, possibly, resources to prepare for increased traffic, ensure smooth communication and flawless execution of your sales.
So wait no more – start crafting your campaigns, streamlining your workflow, and make sure to connect with your customers through this whole time. It's a great chance to create some new connections and strengthen the ones you already have!