As you have already stumbled upon this article, it won't likely come as a surprise that SMS marketing is the bee's knees. With the open rate as high as 98% and 3 minutes as the average time for the respondent to read the message, it is obvious why businesses decide to include text message marketing in their marketing strategies.
But what is in it for customers? Why do they opt-in to receive messages from a business in the first place?
There could be many reasons. Perhaps they wish to receive regular updates and announcements, such as appointment reminders or shipping notifications. Maybe they find SMS a convenient way to receive support. But many subscribe to receive SMS messages to have access to exclusive SMS discounts and promotions.
Discount messages to customers are one of the best ways to keep subscribers happy and engaged, and that can result in an increased number of sales. Keep reading to find out how to devise a great text message offer together with some universal discount message examples.
How to craft compelling text message offers?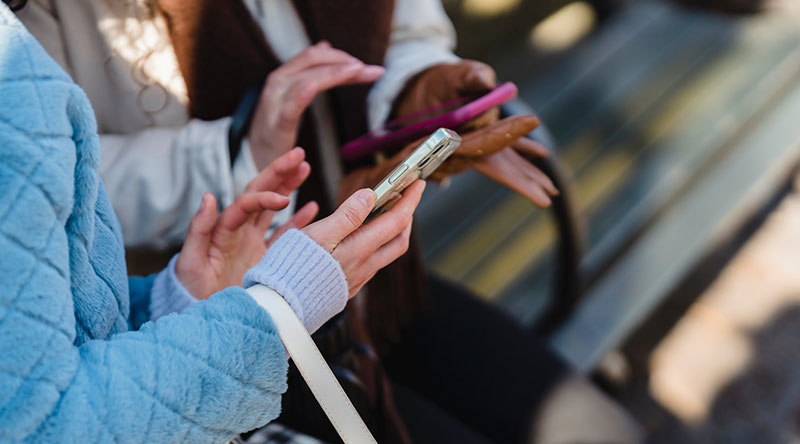 There are some regular do's and don'ts that you should always follow when putting together a promotional message to send out to your customers.
A compelling message will win customers' attention. You want them to open the message and take your desired action now. To achieve that, consider the following when putting together your text messaging deals:
1. Have consent to send the message in the first place
People have to opt-in to receive messages from you before you can start sending text messages to them. Besides, it's important to keep the opt-out option easy and simple.
2. Think about timing
It's crucial to familiarize yourself with the times when it's the most beneficial to reach out to customers and when to avoid doing so.
3. Create relevant content
Whether it's blog posts, videos, eBooks, infographics, podcasts, how-to guides, or anything else that you can come up with, make sure your content brings value to your audience by offering the information that they need.
4. Create a sense of urgency
If you want to make a sale, the offer needs to be enticing. Make it clear that the time of the offer could be running out any minute.
5. Add a clear Call-To-Action
Don't always go for "Shop Now", "Buy Now" CTA-s. Get creative and make the start of the customer's shopping process fun.
6. Highlight the exclusivity
If people feel special, they are far more likely to take action. Use SMS marketing magic to add a personal touch to your messages. This can be done by choosing the right words and phrases such as "we have just the thing for you" or "exclusive deal for our most loyal customers".
SMS discounts that customers are hoping for
The text message offers that your customers are looking forward to the most after opting-in are cash discounts, fixed percentage deals, and free shipping. Such deals can help you attract new shoppers as well as strengthen your relationship with returning customers.
Here are some discount message examples to help you get started with your campaigns.
Abandoned cart offers
According to Statista, the cart abandonment rate worldwide for online shopping orders was 88% in March 2020. Some reasons why people abandon their carts are:
80% for lack of a good return policy.
59% not ready to make a purchase.
55% hidden extra costs.
25% prices are too high.
Take this information and make it work for you. Try various ways to attract customers to complete their purchases.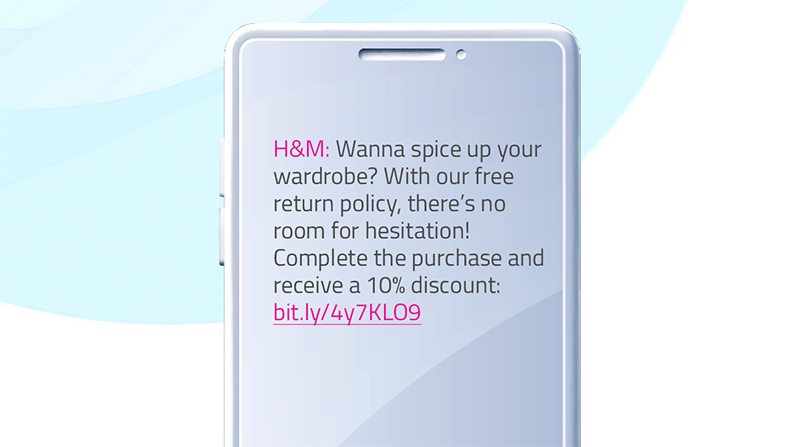 Template #1
[Site_Name]: Wanna spice up your wardrobe? With our free return policy, there's no room for hesitation! Complete the purchase and receive a 10% discount: [Site_Link]
Template #2
[Site_Name]: Did you forget something, [Customer_Name]? Get back before items sell out! Finish your shopping now and receive FREE shipping: [Site_Link]
Product bundle proposals
Product bundling means selling several individual goods or services together as a combined package. Such bundles are offered at a lower price than they would be when purchased separately.
Some examples of product bundles are shampoo and conditioner sets, value meals at restaurants, certain items of clothing, such as scarves and gloves, etc.
Using customers' data will give you an overview of what they are looking at and give you the option to suggest something that fits in well with their order. As cross-selling can increase revenue up to 30% just by recommending adding an additional item to the cart, offering a discount on the additional item can be even more rewarding.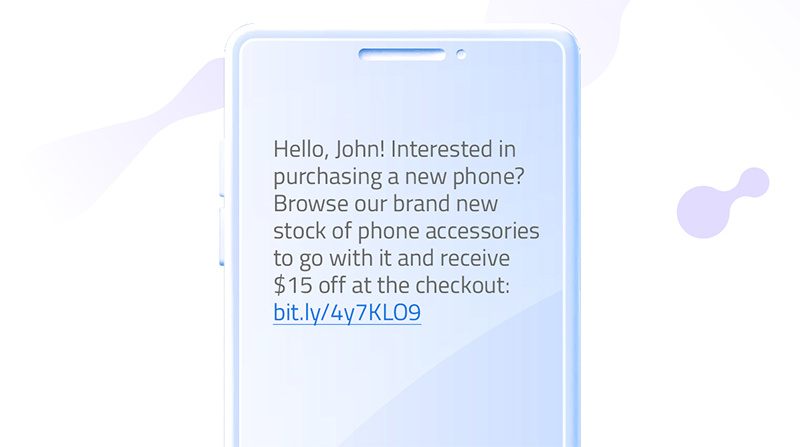 Template #3
Hello, [Customer_Name]! Interested in purchasing a new phone? Browse our brand new stock of phone accessories to go with it and receive $15 off at the checkout: [Site_Link]
Template #4
We have just the right thing for you, [Customer_Name]! Choose a new handbag and get a pair of classy sunglasses for just half the price: [Site_Link]
Royalty rewards
Make sure you don't forget about your most loyal customers and take extra good care of them as they are the ones willing to spend. In fact, 43% of customers are happy to spend more on the brands they are loyal to.
Every now and then, surprise them with something special that feels exclusive. You could offer an extended discount that can be used with the next purchase. Or give out rewards in the form of text message coupons for their purchase, which will incentivize customers to come back to your store and increase the average order value.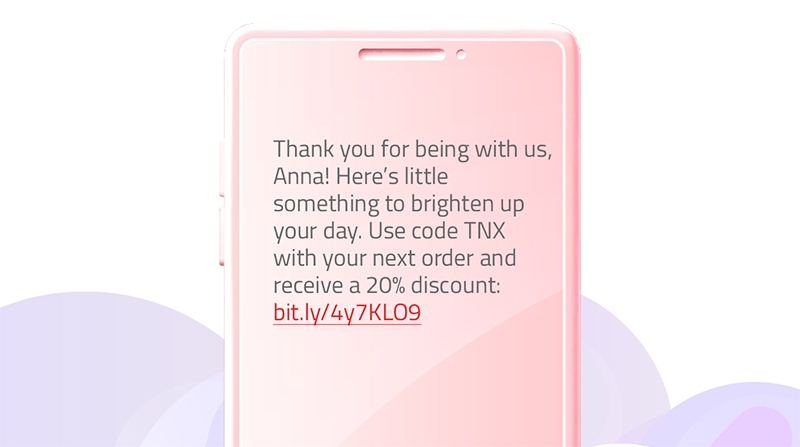 Template #5
Thank you for being with us, [Customer_Name]. Here's little something to brighten up your day. Use code TNX with your next order and receive a 20% discount: [Site_Link]
Template #6
[Customer_Name], You have collected 400 loyalty points that you can use with your next order to receive a special discount or a gift. Redeem them now: [Site_Link]
Ready, set...
...Go! Time to craft your discount message and see how it will affect your sales. Always analyze your results and then readjust your campaigns accordingly. But keep in mind the golden rules of SMS marketing such as careful timing, clear CTA-s, and, of course, having permission to send the message in the first place.
And don't overdo the discounts. Do the math to understand and figure out how such campaigns will be profitable to you.