The global average time people spend in various apps is now 4.2 hours daily, which is up by 30% compared to 2019.
It's officially surpassed the length of a traditional working day and is nearly as much as there's free time left between work and sleep. And that's not even including other digital activities.
Such an intense immersion into smartphones opened many great possibilities for businesses to reach their potential customers right where they are. Scrolling on their phones.
Here's where SMS marketing and instant messaging apps come into play.
If you're not sure which one to choose or come across these options for the first time, keep reading this post for a detailed comparison of these two channels. Spoiler alert: the decision might be easier than you think!
SMS vs. Messenger: what's the difference?
Before we begin, let's clearly define the difference between instant messaging and text messaging.
Instant messaging refers to communicating by sending text messages via specific smartphone apps. Those can be anything you prefer, like Viber, WhatsApp, Telegram, or Facebook Messenger that we're going to cover in this post.
Text messaging is a similar process, but it happens via built-in apps that come pre-installed on every mobile device.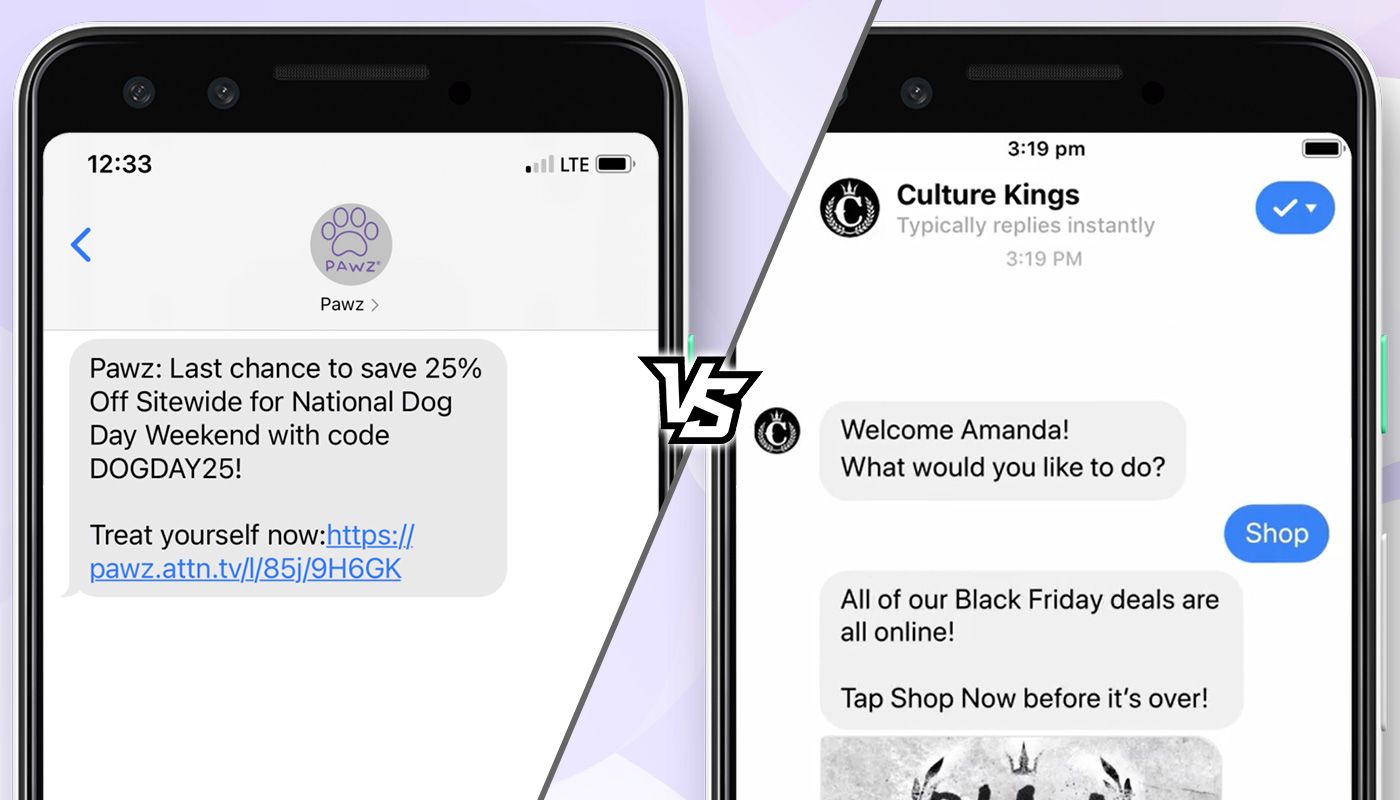 There key differences between these two are:
Instant messaging apps work with an internet connection while text messages are sent via your mobile carrier's network. It means that while sending and receiving texts via instant messaging apps is not possible without connecting to the internet, SMS can be sent and received even if there's no connection around.
If you want to chat using instant messaging apps, you have to download and install an instant messaging app on your smartphone. Text messaging doesn't require downloading any additional apps and is possible with every single mobile device, no matter whether it's a smartphone or not.
Using SMS messages for business
Most of us have been using SMS to communicate with friends and family for years. Instant messaging, however, is a relatively new channel to connect, yet its rapid growth has kind of made us forget about good old texting.
That's not the case for business, though. SMS messages are now especially valued for being such a personal and direct way to connect with users who, on the other hand, are very keen to read them (hint: 98% open rates). Besides, SMS is not as cluttered as email, for instance, so you can cut through all the marketing noise easier by sending a text.
Despite being so simple, SMS have many use cases that businesses can take advantage of:
Send bulk promo messages
Sales follow-ups
Alerts and reminders
Welcome, birthday, or similar messages
Customer reviews and surveys
Order confirmations and status updates
Cart abandonment or win-back customers SMS
Two-factor authentication for security
Loyalty programs, etc.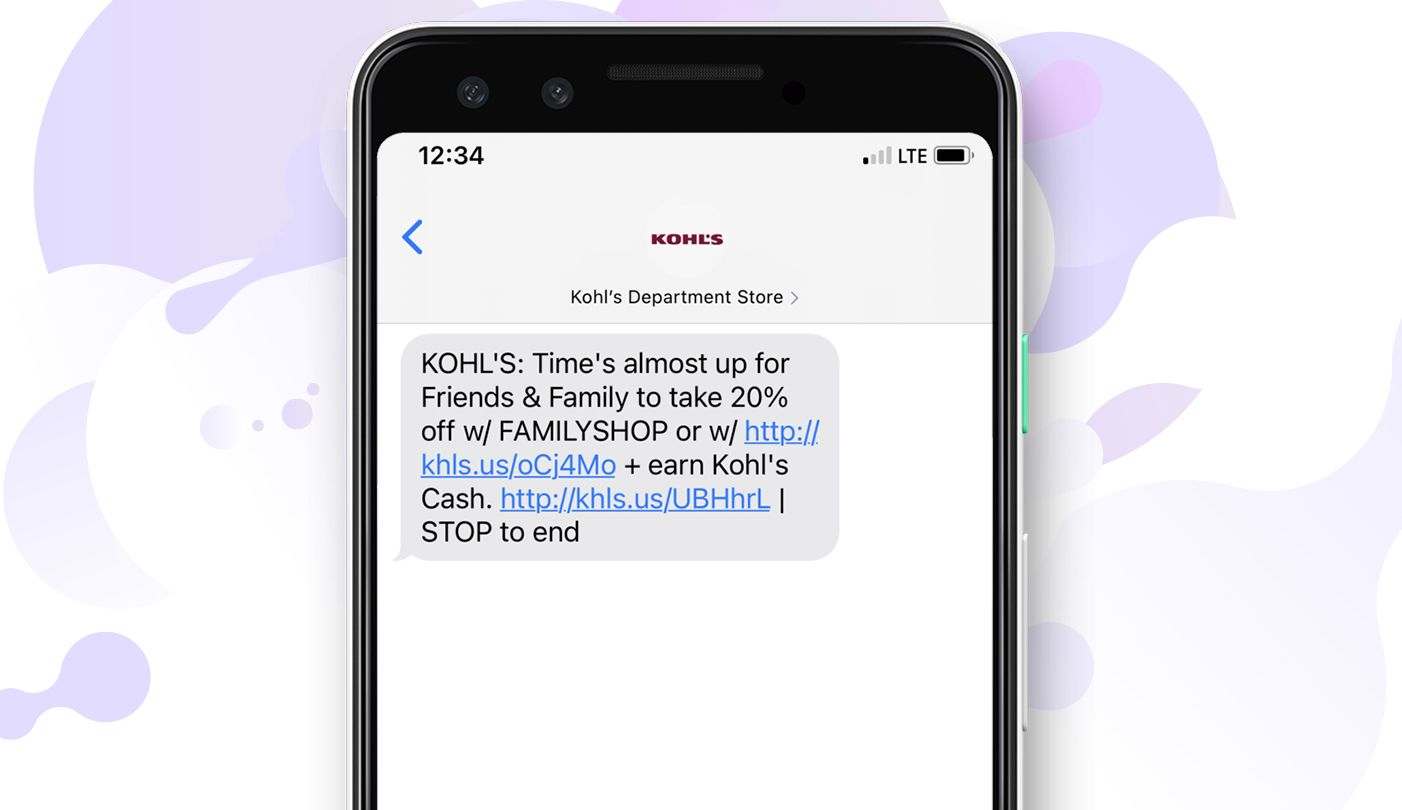 Companies also like to use SMS in combination with email marketing since it can significantly boost overall marketing efforts (for example, to remind them to open an email newsletter that they've recently sent).
Why use Facebook Messenger to text your customers?
Not that long ago, Facebook Messenger was used only for continuous interactions with your friends. Then, people discovered that it's also a convenient way to contact brands for customer support or any other relevant information. Now it's not that surprising when some special offer appears in the messages list from time to time as well.
Facebook Messenger is the second most popular global mobile messenger app (after WhatsApp), with over 1 billion monthly active users as of July 2021. Therefore, the chances that your potential customers are using this app are pretty high, opening an opportunity for you to strengthen existing relationships and likely build new ones.
In addition, each month people and businesses exchange around 20 billion messages (2019), and the option to connect with a brand by messaging makes 69% of surveyed people in the US trust a company more.
You can use Facebook Messenger for:
Sending sponsored messages
Acquiring new customers
Responding to inquiries
Product recommendations
Recovering abandoned carts
Feedback requests
Customer service, etc.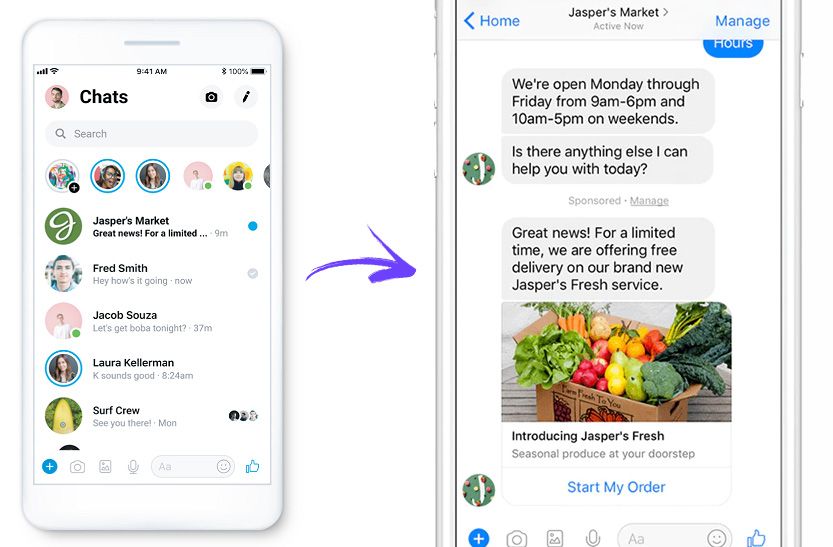 Instant messaging vs. text messaging: the comparison
Overall, messaging, no matter whether it's SMS or instant messages, gives people a way to directly talk to businesses and be more assured of where their money goes if they decide to make a purchase.
Both of these channels can offer that to potential customers, although let's look at some things that connect and/or set them apart.
1. Open rates
SMS
SMS has one of the highest open rates of all the marketing channels. As previously mentioned, SMS open rates are 98%, and on average, people tend to respond to a text within the first 3 minutes of receiving it.
This ensures that the messages you send will reach the majority of your target audience.
Facebook Messenger
Meanwhile, Facebook Messenger falls behind SMS just a bit with its 80% open rates, but it's still a great result. For comparison, the average email open rate is 18%.
2. Compliance
Both SMS and Facebook Messenger have strict rules about sending messages to prospects and customers.
SMS
To send SMS to customers, you must get their permission. There are several ways they can opt-in to receive your texts, including a sign-up form on your website, by entering a text-to-win competition, by agreeing to receive promotional messages at order confirmation, etc.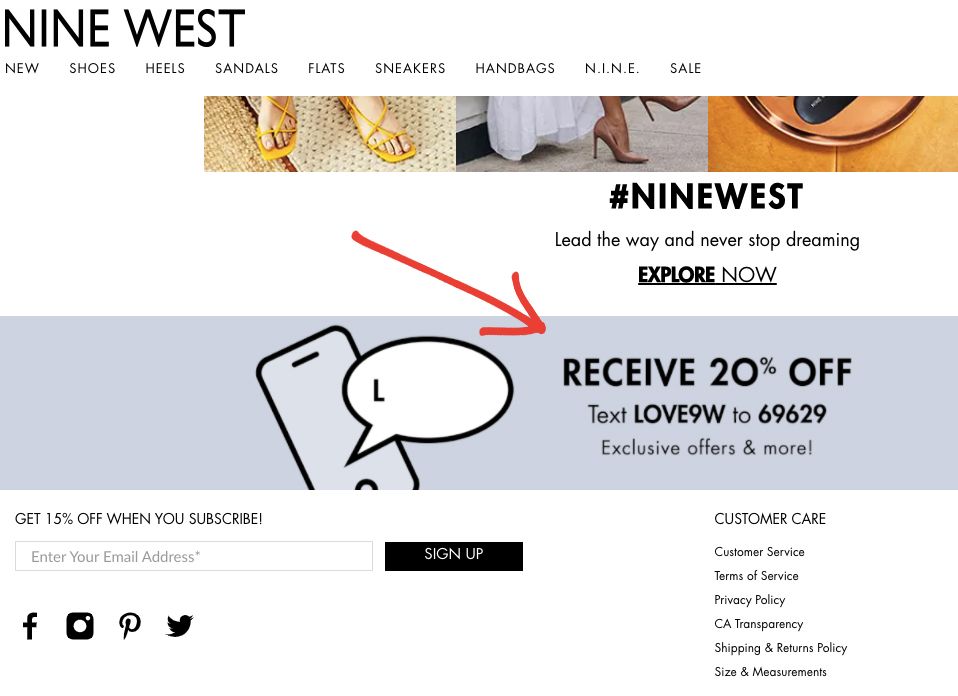 Once users give you their consent, send a welcome message saying how often they can expect to hear from you and provide instructions to opt out if anything changes.
Facebook Messenger
The process is a bit trickier with Facebook Messenger, but nothing too complicated.
In short, businesses can only contact someone using Facebook Messenger after receiving a message from them first, and they have 24 hours to do that (24-hour rule). If you reply faster, a new 24-hour window starts from the moment you send your answer.
What happens outside the 24-hour window?
You have three other options:
To use a Message Tag (there are four of them) – it allows you to send messages outside the 24-hour window, but your message must fall under one of the use cases.
Receive permission from the user to send them a One-Time-Notification.Send Sponsored Messages (you have to pay for them).
Not following these rules will result in a warning from Facebook. If you continue to contact your customers anyway, you will have your page blocked.
3. Cost
SMS
To send SMS messages, you will need to choose an SMS provider to stay compliant and do this effectively and efficiently. Some software will ask you to pay a monthly/yearly fee + you will have to cover the costs for sending SMS (which vary depending on the country, but it's usually just a fraction of a cent). Other providers might only ask to pay for what you use.
One way or another, sending SMS is cost-effective and can bring you one of the highest ROIs (Return on Investment).
Facebook Messenger
If you can fit into the 24-hour messaging window, it costs nothing to connect with customers who have just texted you. However, if you want to send sponsored messages, it will cost you about 10 cents per opened message.
Also, same as with SMS, to organize it all more effectively, you'll need to use an additional tool like ManyChat that will cost you extra (depending on a chosen pricing plan).
4. Content possibilities
SMS
SMS is best suitable for short form content, like updates, time-sensitive deals, and so on since it has a 160-character limit and works great for grabbing attention.
When it comes to other media, like images, videos, stickers, or similar, SMS is quite limited. However, if you want to make your messages more visual, you can use MMS (Multimedia Messaging Service) that will allow you to deliver videos, audio, images, GIFs, etc. but will likely cost more.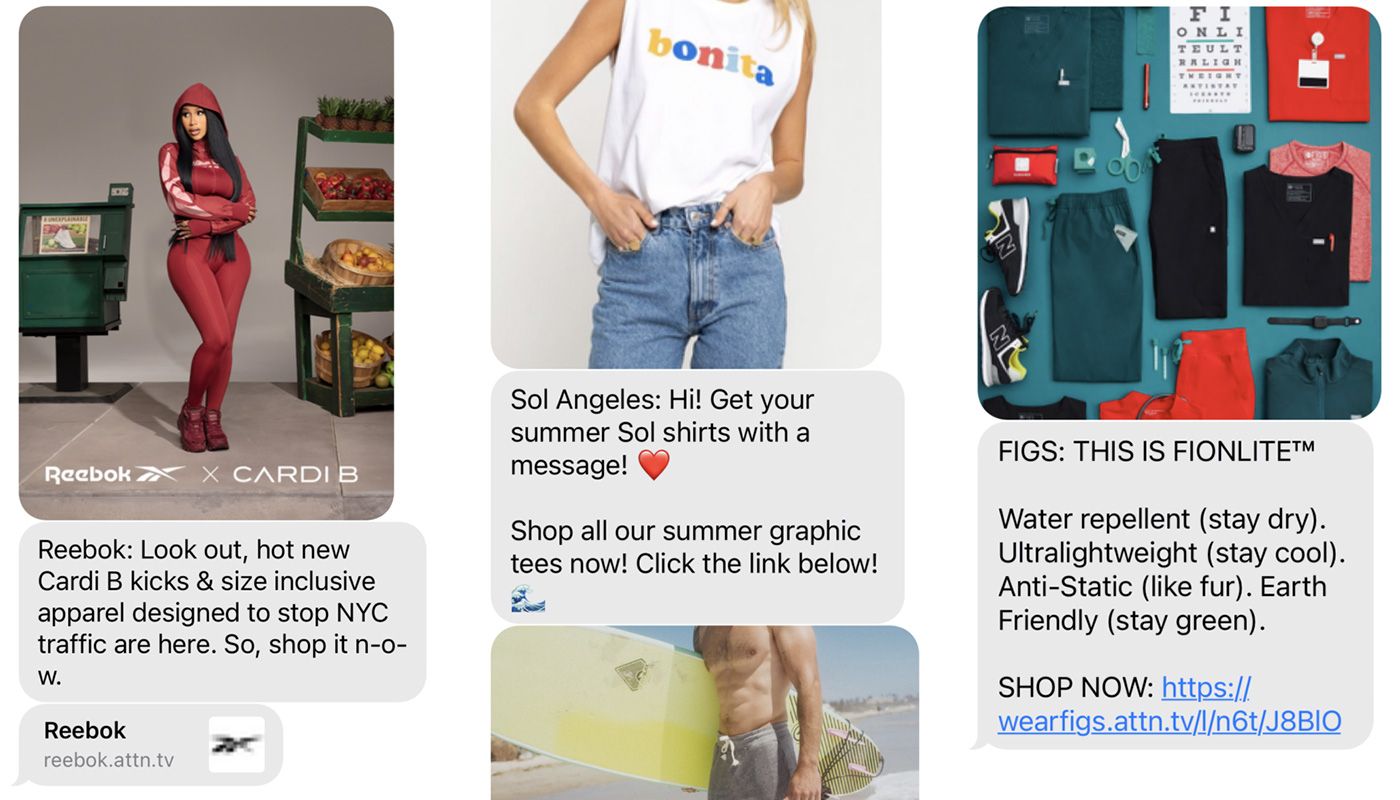 Facebook Messenger
Facebook Messenger is much more flexible when it comes to visuals and basically has no limits of what you can add to your marketing message. Anything you can send to your friends via Facebook Messenger, you can also send to your customers, including pictures, videos, stickers, GIFs, and so on.
5. Automation options
SMS
You can send automated SMS messages that can help you save time and strengthen relationships with your customers. All you have to do is pre-define specific triggers that must be met for the message to be sent.
Some examples of such SMS are welcome messages, appointment reminders, abandoned cart reminders, order confirmations and status updates, etc.
Facebook Messenger
Facebook Messenger automation relies heavily on chatbots that can assist users with many different requests, including answering basic customer support questions, delivering relevant content, or just keeping your business available at all times.
If you don't know how to code, you can use third-party software to create a chatbot. Some of them are free and can help you create a chatbot in less than 30 minutes. It's also possible to build one with Facebook's native tools to run some very limited chatbot functionality.
6. Tracking and analytics
SMS
There is more than one way to track the success of your SMS campaigns.
The SMS provider you use to send SMS messages to your customers will very likely offer you an option to measure your results. Depending on the software you choose, you can keep track of various stats like the number of messages sent, how many of them were opened, clicked on, specific costs, and so on, and easily download reports.
Another way is to include UTM tracking links in your messages and use Google Analytics to track the number of people who followed your call to action. You will generally find the information you need under Acquisition -> Campaigns -> All Campaigns.
Facebook Messenger
Similarly, you can track your messenger marketing results in a way that's more convenient to you.
There's an option to do that by choosing the Insights on your Facebook page dashboard.
Another way to do it is via whatever software you're using to manage your chat marketing efforts, be it already mentioned ManyChat or MobileMonkey, for instance.
The verdict: which one is right for your business?
The good news is that you don't have to choose between Facebook Messenger and SMS.  
Each of these two channels comes with its own strengths, benefits, and possibilities so including SMS marketing and Facebook Messenger in your marketing strategy can bring you different advantages that will add up to overall results.
However, if you feel that you won't be able to keep up with them both, let your audience decide. Your subscribers differ by age, location, gender, habits, and so on, and you can't really guess which channel they prefer until you try. Experimenting will give you the chance to see how it all works and will help you come up with a strong decision, which will benefit both your customers and your brand.