2020… The year when e-commerce stopped steadily growing and leaped 5 years ahead of time instead.
Worldwide lockdowns and social distancing have made online shopping not only a necessity but also a kind of entertainment that helps to stay closer to "a normal life." Such a sudden shift to digital has raised many new challenges for businesses but also opened doors to new opportunities.
As a result, many people who have been dreaming of starting their own businesses saw an increased amount of free time and the growing popularity of e-shops as a sign. Now-or-never kind of situation.
But before you start, there are many things to consider. One of them is the platform you'd like to use for your e-commerce store that would be easy to navigate and even help your business grow. This is what we're going to focus on in this article – 4 TOP e-commerce platforms you should consider before starting your e-commerce business in 2022.
What is an e-commerce platform?
An e-commerce platform is software that you can use to operate your online business – manage your website, orders, marketing material, sales, customer service, and other. Or to put it simply – e-commerce platforms help businesses sell online.
Such platforms come with powerful e-commerce features that are usually especially beneficial for first-starters and those with no previous experience. Your options vary greatly depending on the platform itself so it's important to clearly define what's important for your business before choosing one.
In fact, this is one of the most common mistakes many business owners make – jumping right into it without figuring out their goals and current resources.
Why use an e-commerce platform?
1. Easier to get started. The only thing that many e-commerce platforms ask for in the beginning is to sign up. Doing this allows you to create your store in a matter of minutes, even if you don't have any special skills or previous experience.
2. Variety of features. As such platforms are focused on helping users to sell online, they usually come with the most important functionalities required for this, such as inventory and order management, marketing opportunities, customizable design possibilities, etc.
3. Integrations. If the offered e-commerce platform features are not enough, you can often extend your store capabilities by integrating third-party apps or other platforms, if they are compatible with each other.
4. Security and reliability are crucial when dealing with sensitive customer information, like credit card details. E-commerce platforms take care of this by enabling SSL certificates or/and offering PCI compliance.
5. Support. There's a chance that nothing will go as smoothly as you've planned, but most e-commerce platforms also offer quick assistance with anything regarding your store.
Choosing the best e-commerce platform for your store
There are definitely many questions to answer before deciding what e-commerce platform will work best for your objectives. To make this easier for you, here's our TOP 4 based on key criteria that you have to take into consideration.
1. Shopify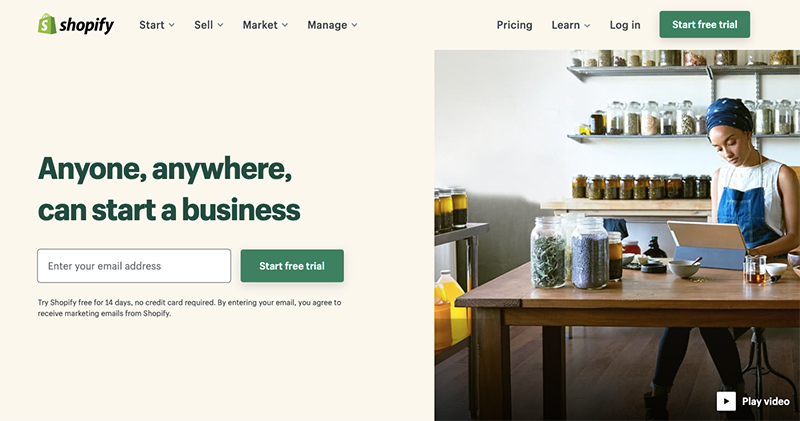 Shopify is one of the leading e-commerce platforms that currently supports more than 1 million different businesses across 175 countries. Given that the platform helps you deal with everything from your store design to order fulfillment, there's no wonder that Shopify experienced impressive sales growth due to the pandemics and e-commerce boom.
Although it's best suited for small and medium-sized businesses, Shopify is also used by giants like GymShark, Nestlé, or Heinz that actually used the platform to become available online in just 7 days.
Shopify: ease of use
What's great about Shopify is that you don't need to worry about technical stuff at all since the platform got it covered. Unless you want anything very specific and customized to your store only, you can build an intuitive, good-looking, and well-functioning store by simply using Shopify native tools.
Shopify: plugins and integrations
However, as your business grows, you might start to feel that the built-in features that Shopify offers are not always enough. In such a case, every Shopify store owner can take advantage of a wide variety of Shopify apps available at the Shopify app store, and integrate them with their stores to enhance the performance.
For instance, if you feel that the native Shopify inventory management features no longer meet your needs, there are plenty of apps in the inventory management category that you can choose from for more options. You can also use third-party apps to improve your marketing efforts (for example, easily send SMS messages to your customers), boost sales and conversion, increase customer support efficiency, productivity, help you with orders and shipping, and many more.
Shopify app store currently contains over 3000 apps, many of which are free of charge. There are also apps that are free but comes with paid plans that hold more advanced features. All in all, plenty of affordable options to choose from, whether you're just starting or have been in e-commerce for a while already.
Shopify: design and themes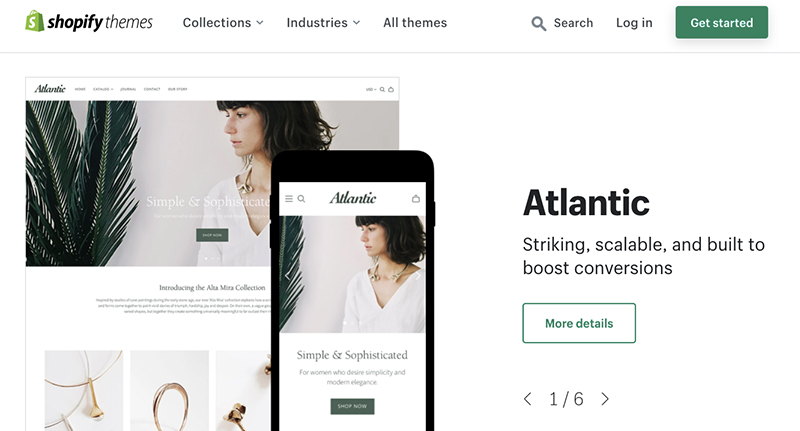 Shopify's theme library offers many options for your online store. The platform contains 9 free themes that were developed by Shopify (yet you can customize them) and almost 70 paid themes from different developers.
You can also create your own theme and upload it to Shopify, but, of course, it will require additional resources, both human and financial, and might be quite costly. Another option is to purchase a theme you like from websites like Themeforest.
Depending on your products or services, the size of your product catalog, or whatever else, you can choose the theme that would help you highlight your benefits or display your products in the best possible manner. For instance, there are themes specifically designed to easily showcase and filter larger inventories, which makes it convenient for everyone.
Shopify: payment options
The payment options you provide at the checkout are very important since they can be the reason why your customers abandon their carts. Shopify is quite flexible regarding this matter as it allows you to enable a variety of different solutions.
1. If you want to offer payments using a credit card, you can use Shopify payments or choose from over 100 third-party payment providers (you can find all of them by country here).
2. Shopify also allows several alternative methods that do not require a credit card, like PayPal, Amazon Pay, Apple Pay, and even cryptocurrency. Manual payments are also possible, but you will have to approve the order before fulfilling it.
Shopify: customer support
Shopify support is available 24/7 through email, online chat, or phone. This is especially convenient as many individual shop owners don't really have much help from outside, so they can get their answers fast from the Shopify team if anything goes wrong.
Shopify also provides great options for self-service – you can find your answers using Shopify Help Center that covers all aspects of your store and share your experience in the community forum, ask questions, and get tips.
Shopify pricing
You can try Shopify for free for 14 days, but then you must pick one of the paid plans to continue using the platform. The Basic Shopify plan costs $29/month and is best for new businesses. For growing businesses, there's a plan called Shopify that costs $79/month, and you can also use Advanced Shopify for $299/month (best for businesses with 2+ retail stores).
Shopify can also be upgraded to Shopify Plus which is best suitable for bigger corporations and offer more flexibility, support options, advanced apps, etc. Shopify Plus plans start at $2,000/month.
2. BigCommerce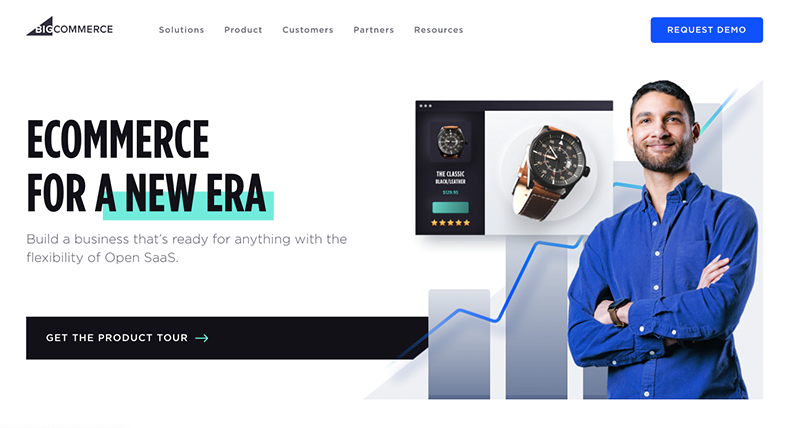 BigCommerce is another fully hosted e-commerce platform which means that like Shopify, it also runs on its own servers so merchants don't have to worry about server maintenance and costs, or installing any additional software to their computers to get started.
The company is now being used by more than 90,000 online store owners in 65 different countries, that range from startups to such companies as Toyota, Sony, or Philip Morris International. It offers tons of built-in features that help you sell online efficiently and ensures scalability for those who grow rapidly.
BigCommerce: ease of use
As BigCommerce offers more scalable features, the learning curve is a bit steeper and it might require more time from the beginners, but nothing too complicated in general. The whole store management, organizing products, tracking the results are actually very easy, but be ready to put a little more effort when customizing your store.
BigCommerce: plugins and integrations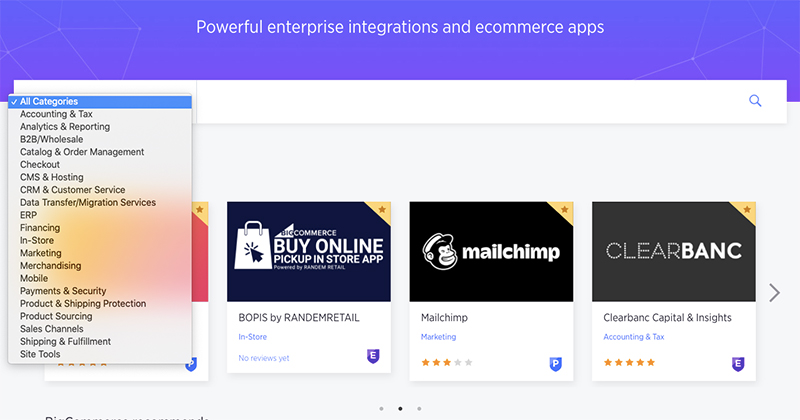 BigCommerce also offers to improve your store with many apps and integrations from its Apps marketplace. It's actually very similar to the previously mentioned Shopify app store – you have different categories to serve different needs, many of the apps are free, and for others, you will have to pay.
BigCommerce Apps marketplace features hundreds of various tools to help you with anything from store organization to shipping, including marketing, sales, advertising, or analytics. You can also explore apps collections where you can find recommendations for best-rated solutions.
BigCommerce: design and themes
BigCommerce's Theme store offers both 12 free and over 140 paid themes that you can browse based on your product category, catalog size, layout, etc., with the price range of $150-$300. Although it seems that BigCommerce can offer more themes than Shopify, you should keep in mind that many of them are slightly customized versions of already existing themes, which adds up to more or less the same number of choices.
All of BigCommerce themes are fully responsive (mobile-friendly) and customizable if you're up for it. You can use the platform's Page Builder that lets you create and edit pages using a drag-and-drop feature. For this, you won't need any coding experience as you will be simply able to just move specific items around the screen and organize everything to your liking.
BigCommerce: payment options
BigCommerce allows you to choose from 65 pre-integrated payment solutions available in more than 100 countries and 140+ currencies.
There are also options that don't require customers to use their credit cards, which could be:
Online banking
Direct debit/ACH
Digital wallets, like Apple Play, Amazon Pay, Google Pay, etc.
Bank transfers
Mobile payments
Delayed payment and installments.
What payment gateways will be available to you depends on your store country and the currency you use.
BigCommerce pricing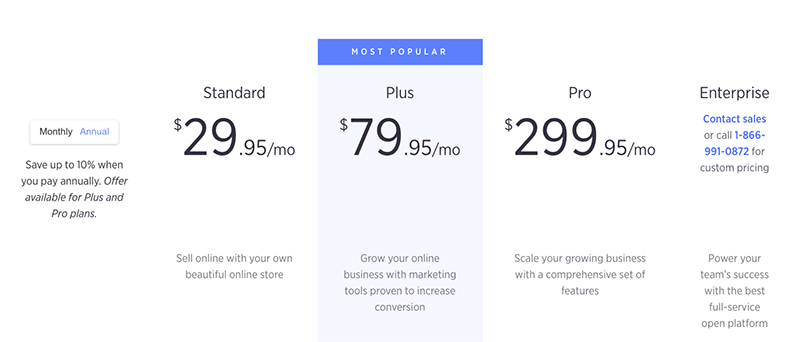 BigCommerce offers three plans:
Standard – costs $29.95/month, best suited for those selling up to $50k annually.
Plus – costs $79.95/month, aimed at growing businesses. Comes with all the features from the Standard plan and offers additional features, like customer groups and segmentation, special credit card rates, abandoned cart saver, and more.
Pro – to scale your growing business. Costs $299.95/month and aimed at those selling up to $400k annually.
You can also upgrade to an Enterprise plan which offers custom pricing based on your needs. All plans come with a free 15-day trial.
3. Magento
Magento, which is a part of Adobe since 2018 and thus also sometimes called Adobe Commerce, is last but not least on our list. It's an open-source platform used by thousands of businesses, including such world-renowned brands as Nike, Canon, Jack Daniel's, or HP Inc.
One of the key differences between Magento and previously mentioned Shopify and BigCommerce is that Magento is free to install on your computer but you will have to take care of web hosting, security, and similar things by yourself. Put simply, Magento is aimed at bigger players and might cause some serious headaches for beginners who don't have any experience with the development of a website.
Magento: ease of use
If you're just starting with e-commerce and have no coding skills, Magento is not the best option in this case. It's not that intuitive and easy to use as its competitors and would probably work only if you could afford help from developers.
However, if you have all the necessary resources, Magento shouldn't really bother people who know what they're doing. Self-hosting setup is quick and easy and you can find everything brought together on the navigational menu.
Magento: plugins and integrations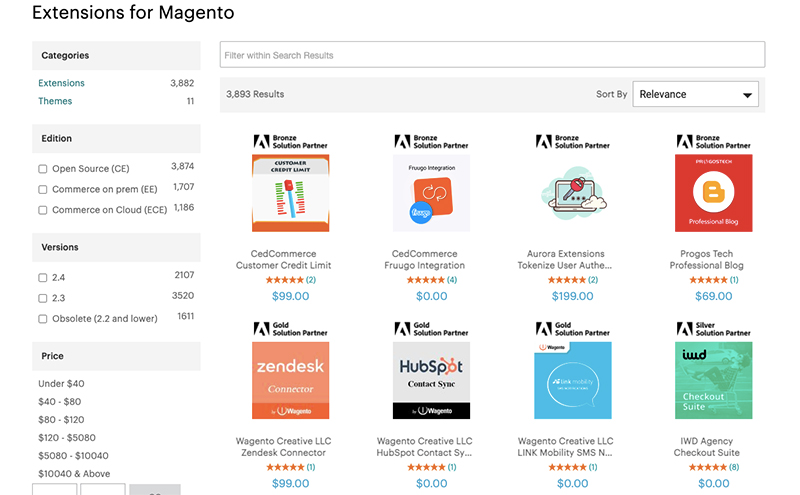 Magento has an Extensions Marketplace where you can find many third-party tools developed to extend the performance of your store. They come in 9 categories, including accounting and finance, marketing, content and customizations, customer support, payments and security, etc. Many extensions you can get and use for free, but there are also plenty of paid ones you can choose from.
Magento Marketplace makes it much easier to install extensions (in another case, you'd need to do it manually) since you won't have to do any custom programming. So that's one of the things that you can actually do without even opening the code, just with a click of a button. Magento itself also ensures that product reviews are relevant and real and that every extension is up to coding standards, compatible, not plagiarized, and totally secure.
Magento: design and themes
As for the themes, there's a very limited number of them on Magento, especially compared to its competitors. At the moment of writing, Magento Marketplace offers 11 themes in total that range from free to $499. Magento also allows you to upload your custom-made theme, yet again, this requires you to have comprehensive coding knowledge or be able to hire help.
If that's not an option and you still want your store to stand out a bit, you can check the already mentioned Themeforest that contains a much wider variety of themes to choose from. Prices vary from $17 to $399, and for that price, you can have a well-designed, easy to navigate, mobile-responsive theme that should improve the online shopping experience for your customers.
Magento: payment options
With Magento, your customers can use one of the three ways to pay for their orders:
PayPal payment solutions. Depending on your location, your customers can use a variety of payment options offered by PayPal, including PayPal Express Checkout, PayPal Payments Pro, PayPal Payflow Link, and more. PayPal Express Checkout and PayPal Payments Standard, however, can be used anywhere in the world.
Online payment methods. There are two – Klarna and Amazon Pay. With Klarna, your customers can decide how they want to pay and are offered buyer protection alongside decent customer service. Amazon Payment speeds up the checkout process as your customers can use the credentials already filled in their Amazon account.
Offline payment methods – don't require any third-party payment processing company and can be done by bank transfer, cash on delivery, and a few more different ways.
Magento: customer support
As you're expected to do a lot by yourself using Magento, the same goes for customer support. Besides, as many parts of the store are customizable, issues would be more difficult to resolve. That's why Magento offers a well-made self-service portal where you can troubleshoot problems by yourself. Various guides, how-tos, FAQs, tech resources, forums, and many more are available to anyone, you just need to know what to look for.
But Magento has a large and active community of more than 250,000 developers so you will definitely be able to find someone to fix your website problems if there are any.
Magento pricing
Magento is a free e-commerce platform, yet you will have to pay for everything else – web hosting, security, extensions (if any), developers' work, etc. This might be quite costly if you can't do that yourself, that's why this platform is better suited for strong, bigger corporations. It's difficult to say how much everything would cost in total as you can use various providers and services, so it all depends on your skills and specific choices.
4. WooCommerce
WordPress is far and away the most heavily-used CMS on the planet. Delivering websites that are both highly stimulating and technically comprehensive, WordPress is also the weapon of the choice for those looking to create an e-commerce website.
WooCommerce, WordPress' flagship e-commerce theme is used in 23.5% of all online stores.
Put simply, if you have your heart set on a WordPress-e-commerce website, WooCommerce is the solution for you.
WooCommerce: ease of use
Here's where things get interesting. Technically, you can create an e-commerce website on WordPress using a WooCommerce plugin. However, if you want to customize specific elements of your store, like with any other WordPress website, you'll have to tinker with code.
If you possess the technical chops - you're good to go. But if you can't code, creating a WooCommerce site can prove quite challenging.
What you can do here is to use website builders like Elementor that enables users to create WordPress websites without having to write a single line of code. As for e-commerce, they usually come with powerful features that allow you to build your online store without any coding experience.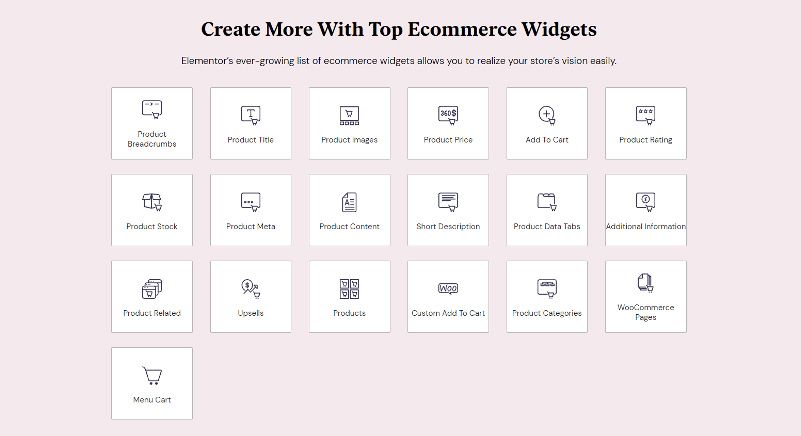 WooCommerce: plugins and integrations
Perhaps more than any other platform on this list, WooCommerce offers users the widest variety of 3rd party integrations (over 50,000!). WooCommerce Extensions store actually resembles Shopify app store where you can choose from different categories and simply browse through tons of plugins that each serve a different purpose.
A plugin itself, WooCommerce also integrates with numerous other WordPress platforms. You can connect your online store to any number of CRMS (e.g. ActiveCampaign), ensure your store is SEO-optimized by connecting with Yoast and sync with a variety of other platforms via Zapier.
WooCommerce: design and themes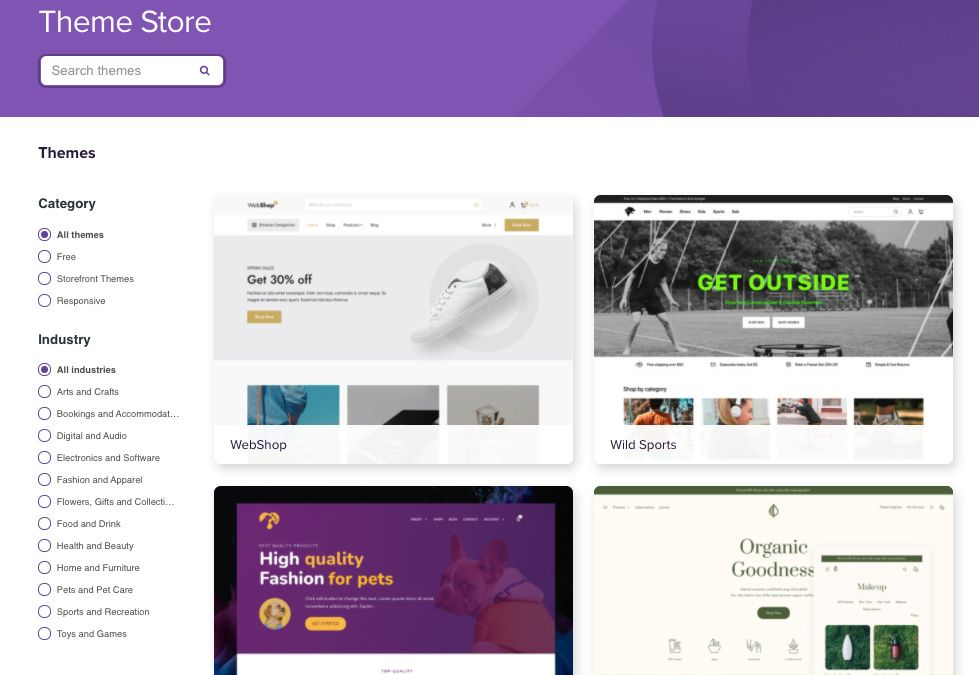 There are literally thousands of WooCommerce themes offered by a variety of vendors. You can actually use WooCommerce with any of WordPress themes, but it is recommended to choose a theme that's made for WooCommerce websites specifically.
For this, there are a few options. You can either go and pick a theme from WooCommerce Theme Store or choose one from such marketplaces as ThemeForest or ThemeIsle.
These are intricately designed to specifically fit online shoppers' customer journeys.
WooCommerce: payment options
WooCommerce offers users a considerably wide variety of payment processing options. When you build a WooCommerce website, you can choose from up to 80(!) different extensions to allow for customer payment, including PayPal, Stripe, Amazon Pay, Afterpay, Klarna Payments, and many more.
WooCommerce pricing
Gaining access to the plugin is free. You'll only have to pay a small fee to host your website. However, you're likely going to want to access functional shopping cart plugins. The latter vary in price but almost never veer into what most would consider expensive.
To sum up
A few important things before choosing the best e-commerce software are to emphasize your business goals, think about possible growth opportunities, resources that are available to you, your own skills and expertise, and, of course, how easy it is to use the platform you already have in mind. It can make a huge difference both to you and your customers, and help or damage your further development in various ways. Easy is not always better, and complex can even help you grow – so take all of the above into consideration, and good luck choosing the platform that will help your business flourish.